Band Of Brothers Tour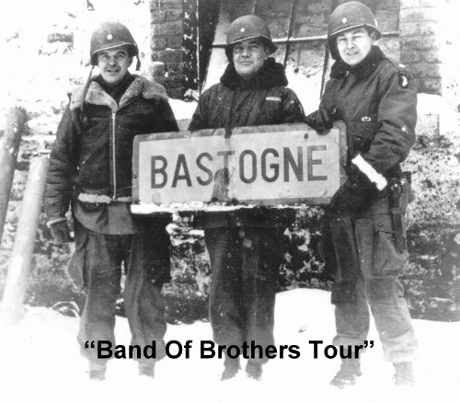 SPECIALIZING IN PRIVATE, GUIDED WW2 TOURS, FOR VETERAN'S FAMILIES
LOCATIONS
The "Screaming Eagles" – 101st Easy Company's original foxholes, in the "Bois Jacques" woods near Foy and the story of the heroic attacks and ferocious battle for the heavily defended village, by members of Major Richard "Dick" Winter's "Easy Company" ( featured in the "Band of Brothers T.V serial and Stephen Ambrose book)
Plus a look at a battle-scarred house in Foy. Still exactly the same as it was in 1944/45. It was in this house that German soldiers ate, slept and fought from and it was also used as an aid-station by the Americans. A German sniper fired upon "Easy Company", from an upstairs window, as Winter's men charged across the open fields
Several impressive 101st "Screaming Eagles" monuments in and around Bastogne (Band of Brothers)
 Bastogne Church & location of the 101st's Airborne's Aid-station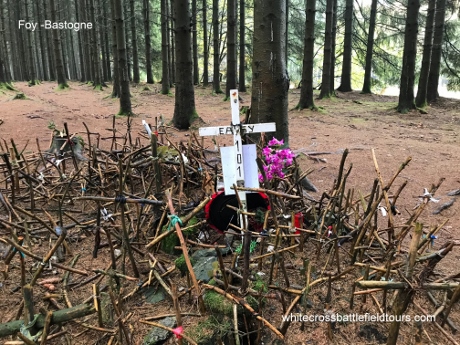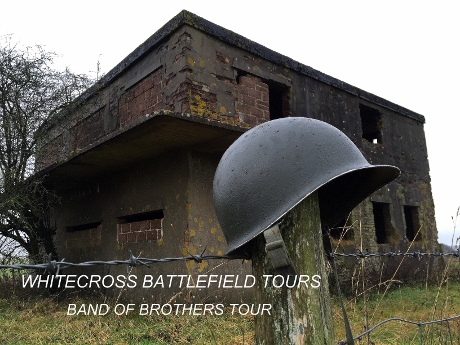 McCauliffe Square (battle scarred Sherman Tank ) – Bastogne (Square named after Brigadier General Anthony McCauliffe)
The Bastogne Barracks (Heintz Barracks). 101st Airborne's headquarters, McAuliffe's basement command post, vehicle restoration centre and amazing and vast collection of restored WW2 Tanks and vehicles
We can have lunch in the "NUTS" Café on the square – lots of veteran photos here (Easy Company)
Original , battle damaged Sherman Tank Turrets, on all the major approach roads into the town, marking the defensive blocking positions (perimeter)
The huge and very impressive Mardasson Memorial & newly refurbished Museum, with a restored Sherman Tank from the battle, in the reception area !
The large Recogne German Military Cemetery, near Foy
Task Force Desobry's defensive battles at Nouville & memorial
Battle-scarred buildings
The excellent – 101st "Screaming Eagles" Museum, with hundreds of original artefacts and a fantastic and realistic re-creation of on of the Luftwaffe raids on the city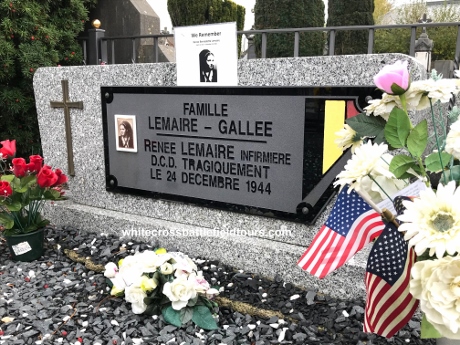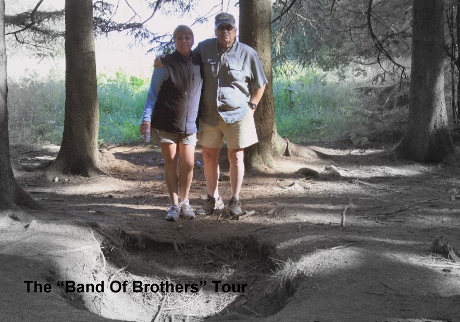 The paratrooper drop zones and C47 re-supply locations outside Bastogne
The story about the siege and encirclement of Bastogne by the Germans and the eventual breakthrough and the hard fought victory
The battle-scarred pillbox near Assenois, where the encirclement was broken.
Castle Rolly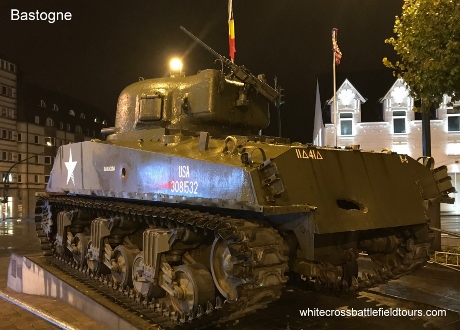 The location where the German surrender demand letter was received ,by General Anthony McCauliffe and where he replied "NUTS" (Bastogne Barracks Museum)
The 10th Armored's blocking positions at Marvie, Noville & Longvilly (Team O'Hara, Team Desobry & Team Cherry)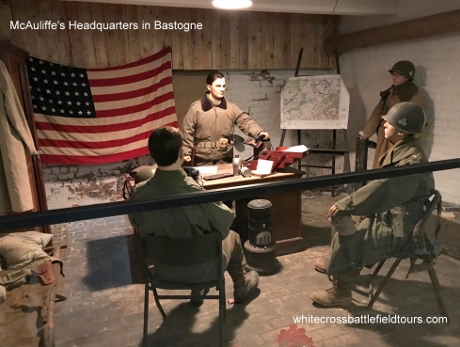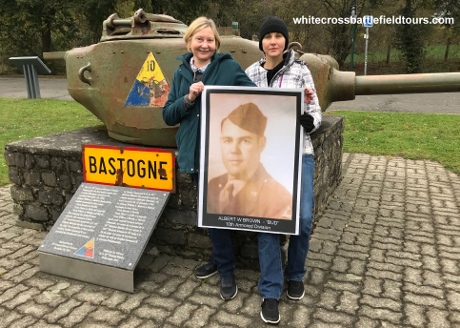 Location of a huge amount ,of untouched, U.S & German foxholes, trenches and shell crators,  just outside Bastogne and the story of the fierce and bloodied battles that happened here, in the forest. I will show you some pieces of shrapnel here, still lying here on the forest floor, after over 73 years ! If we are lucky, we may see bullets here also. (often we do).
Below: Artefacts i have found from the former Battlefield, around Bastogne: