BATTLE FOR

AACHEN

TOUR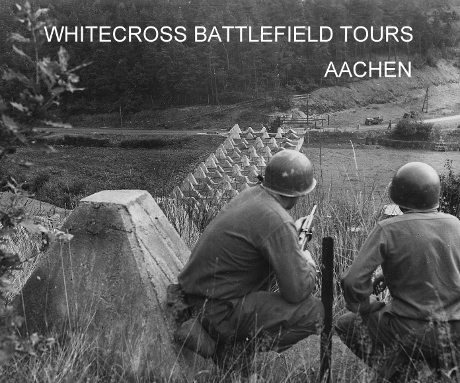 Aachen was heavily damaged during World War II.  The ancient city of Charlemagne and its fortified surroundings, were laid siege to, from 12 September–21 October 1944, by the US 1st Infantry Division with the 3rd Armored Division assisting from the south.
Around the 13 of October, the US 2nd Armored Division played their part, coming from the north and getting as close as Wurselen, while the 30th Infantry Division played a crucial role in completing the encirclement of Aachen on 16 October 1944.
With reinforcements from the US 28th Infantry Division,  the Battle for Aachen then continued involving direct assaults, through the heavily defended city (26th Infantry), which finally forced the German garrison to surrender, on 21 October 1944.
Aachen was the first German city to be captured by the Allies, and its residents welcomed the soldiers as liberators….
Aachen was destroyed partially – and in some parts completely – during the fighting, mostly by American artillery fire and demolitions carried out, by the fanatical Waffen-SS defenders. Damaged buildings included the medieval churches of St. Foillan, St Paul and St. Nicholas and the Rathaus (city hall), although Aachen Cathedral (Dom),was largely unscathed.
Only 4,000 inhabitants remained in the city; the rest had followed evacuation orders. Its first Allied-appointed mayor, Franz Oppenhoff, was assassinated by an SS commando unit.
1,345 Jews lived in the Aachen in 1933. The synagogue was destroyed during Kristallnacht in 1938. In 1939, after emigration and arrests, 782 Jews remained in the city. However, after World War II, only 62 Jews lived there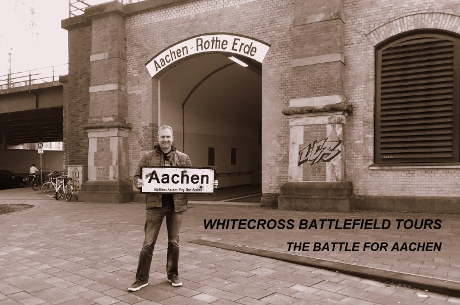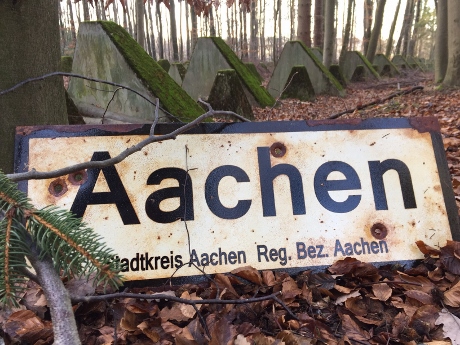 THE BATTLE FOR

AACHEN

TOUR
This is a 1 or 2 day tour, exploring the battlefields, inside and outside of Aachen
It can also be extended, to include my Hurtgen Forest Tour, if required, as Aachen is on the edge of the Hurtgenwald
TOUR LOCATIONS
HENRI-CHAPELLE – a visit to the immaculately tended, Henri-Chapelle American Military Cemetery, not far from Aachen, on the German/Belgian border
American attack on Rimburg Castle, the surrounding forest & the vital crossing of the Wurm River
Heavy battles for the towns of  Ubach, Palenberg & Marienburg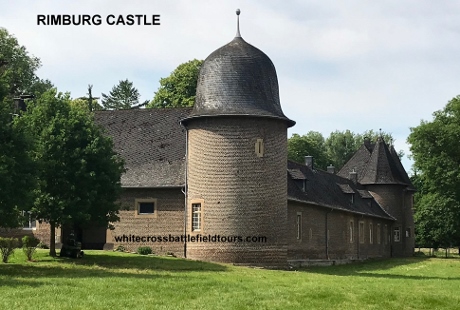 GERMAN BUNKERS – A look at several  & very interesting, huge, blown German pillboxes and bunkers near Stolberg
ENCIRCLEMENT – The encirclement of Aachen by the 30th Infantry Division, 1st Infantry Division, (Big Red One) & 2nd & 3rd Armored Divisions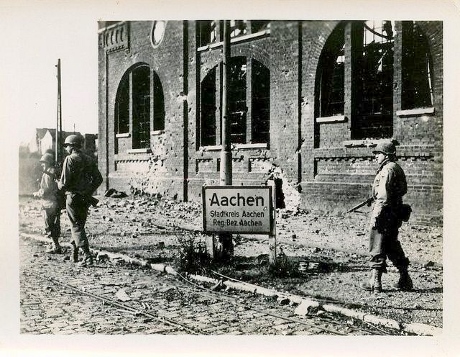 SIEGFRIED LINE – Historical and impressive long sections of  Dragon's Teeth (Hockerlinie), of The Westwall (anti-tank defences of the Schill Line & Scharnhorst Line)
Roetgen  and the American advance to Rott-  Bunkers of the Westwall, where "Taskforce Lovelady" (3rd Armored Division), breached the line of Dragon's Teeth. Mortar positions and MG nest here to see. A superb brand new memorial has now been placed here !
Rott – Headquarters of Norman "Dutch" Cota (during the Battle of The Hurtgen Forest) and where Eisenhower visited. 28th Infantry deserter – Eddie Slovik was held here – in the basement, prior to his trial in nearby Roetgen. This building in Rott, was the division's stockade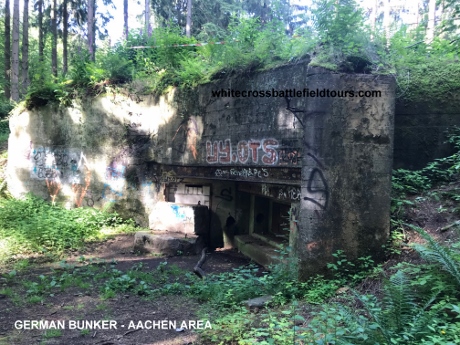 Roetgen Bahnhof (where the 1st American Jeep crossed into Germany) & German MG emplacement and exploded bunkers
Intact German Westwall Bunker & trenches, just outside Aachen & German slit trenches
Wurselen
Eilendorf , Brand & Oberforstbach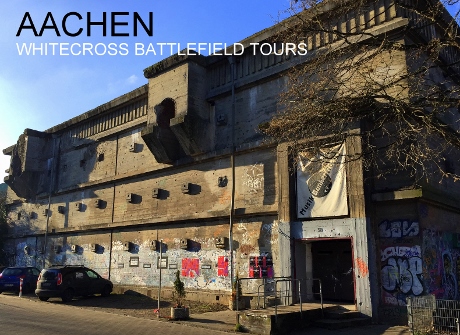 Haaren
Verlautenheide & Crucifix Hill (German destroyed bunkers here)
Julicher Strasse
Aachen Central Bahnhof (Main Railway station)
3 huge battle scarred Air-raid Shelters in the centre of Aachen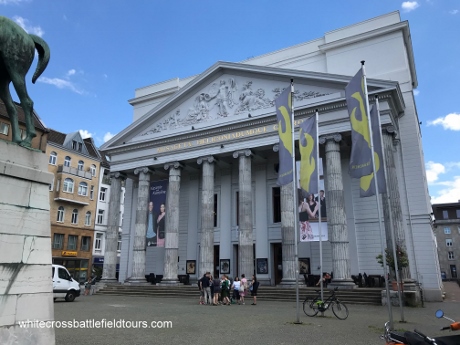 Aachen Theatre
LOUSBERG – The Lousberg Hill and battle scarred ruins
Salvatorberg
Kurhaus
Hotel Quellenhof (German Command Post and the last stand by the Waffen S.S) and the story of the massive battle in & around it
FARWICK PARK – The fierce fighting in and around Farwick Park & the cemetery
Location and a summary of the surrender of Aachen German Commander -Oberst Gerhard Wilck and his depleted soldiers
Ravelsberg Hill
Rolandstrasse
Aachen Rother Erde Bahnhof (scene of a lot of fierce fighting)
Shrapnel damaged buildings
Aachen Cathedral (Dom)
Plus key locations in Aachen centre, where house to house fighting took place (26th Infantry), plus the streets where the infantry advanced down, to reach the centre and clear all remaining stubborn resistance