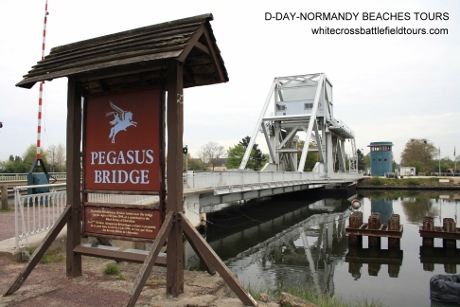 D-DAY / NORMANDY BEACHES TOUR
OMAHA BEACH – D-Day Beaches Tour:  Omaha Beach ("Bloody Omaha") and it's mass of German defensive bunkers, trenches, machine-gun nest positions, remnants of the pebble ridge & superb monuments. Original Belgian gate (beach defence).
Therefore,  standing on Omaha Beach -individual stories of heroism will be relayed – including the heroic actions of Jimmie Monteith (Medal of Honor recipient)
We pay our respects at the grave of Theodore Roosevelt Junior's Grave (Medal of Honor recipient) Roosevelt landed and fought on Utah Beach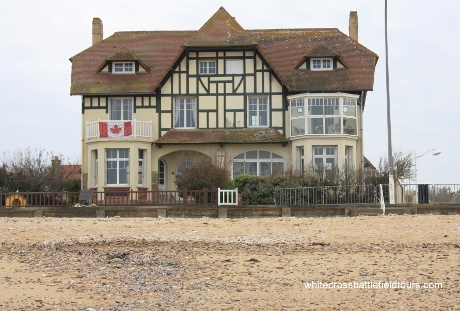 THE D-DAY LANDING BEACHES
Study of the most formidable German defence bunker complex on Omaha Beach – "WN62 "and the story of two of the young German Wehrmacht machine gunners at this position – Heinrich Severloh – "the beast of Omaha"
Crisbeqc – Exact location, where the allied fleet was first spotted on D-Day and the story of the German officer who saw and reported it, to his superiors at Cherbourg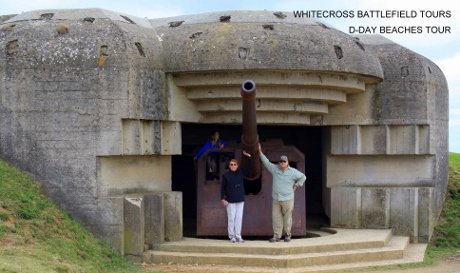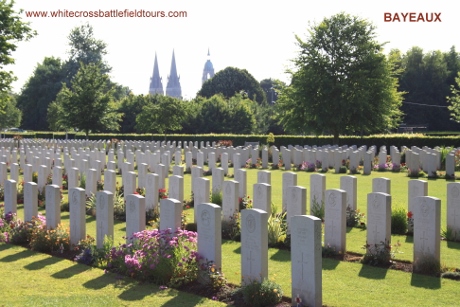 UTAH BEACH – Utah Beach with it's excellent museum and German personell bunkers, defence bunkers and Tobruk's, plus numerous monuments etc including Sherman Tank, U.S half-track, LCVP (Landing craft), "Hedgehogs" (beach defences) etc. Their is much to see along Utah Beach
BIG RED ONE – The story of "The Big Red One" in Normandy – The American 1st Infantry Division, including locations where they fought, monuments, graves and museums etc
BRITISH & CANADIAN INVASION BEACHES – Sword Beach, Gold Beach & Juno Beach – great monuments,  original tanks, field guns, landing craft, destroyed bunkers, several excellent museums etc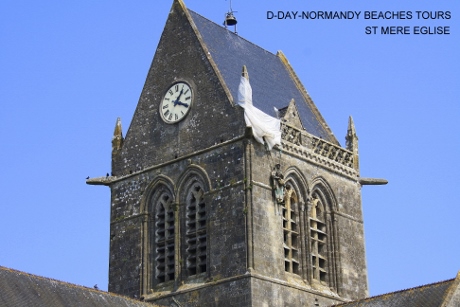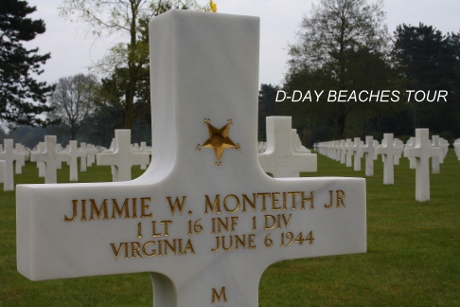 BAYEAUX & ARROMANCHES
BAYEAUX – The immaculate Bayeaux British Military Cemetery and Museum
MERVILLE – Merville German Gun Battery and it's role and defeat on D-Day
ARROMANCHES  – with remains of the "Mulberry Harbour" that was built to bring in supplies and equipment to the landed troops, Sherman Tank and U.S Half-track. Stunning views of the coastline here at Arromanches
PEGASUS BRIDGE – Pegasus Bridge, the Gondree Café, the glider drop zones and Ranville Cemetery (Den Brotheridge's grave)
CARENTAN  -"Purple Heart Lane", Robert Cole's heroic bayonet charge location, Dead Man's Corner & Museum. Superb monument here dedicated to Robert Cole (Medal of Honor recipient)
St Marie-du-Mont & Church
St Come-du-Mont & Church
SAINT MERE EGLISE – Beautiful Church, excellent Museum & Sherman tank etc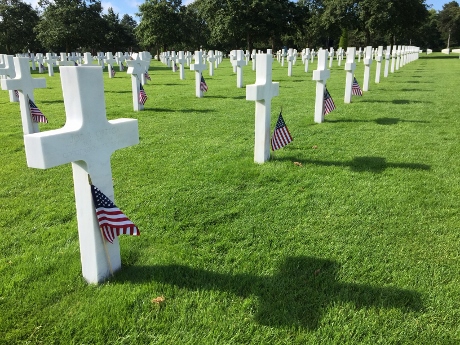 MILITARY CEMETERIES
LA CAMBE – Huge German Military Cemetery & the grave of Tiger ace -Michael Witmann
Cemetery – The huge & impressive Colleville-sur-Mer American Military Cemetery, above Omaha Beach & memorials
COLLEVILLE – The village of Colleville, above Omaha Beach, the rebuilt Church and the former German command post in the village
Vierville-sur-Mer, above Omaha Beach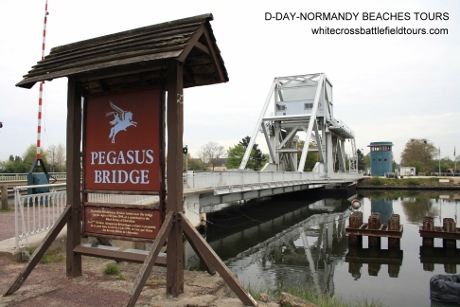 MUSEUMS
Grandcamp Maisy and the huge and impressive Maisy German Gun Battery
POINTE -du HOC – Huge bomb crators, trenches, bunkers, m.g positions, command post etc) taken in a highly trained, extremely daring and dangerous mission on D-Day, by Colonel James Rudder's Ranger Battalion, by scaling the vertical cliffs, under intense enemy fire
CRISBEQC BATTERY – The Azeville & Crisbeqc German gun batteries, that engaged the allied fleet on D-Day
DROP-ZONES
Drop zones of the 82nd and 101st Airborne Paratroopers around St Mere Eglise and near Utah Beach etc
General of the 82nd Airborne – James Gavin's actual foxhole, near St Mere Eglise
Battle of the La Fiere Bridge & "Iron Mike" Memorial statue
Excellent statue and memorial dedicated to 101st's Airborne's – Major Richard "Dick" Winters (famously portrayed in the "Band of Brothers" T.V serial)
BRECOURT MANOR – The drop zone near Brecourt manor by 101st Airborne paratroopers & wonderful memorial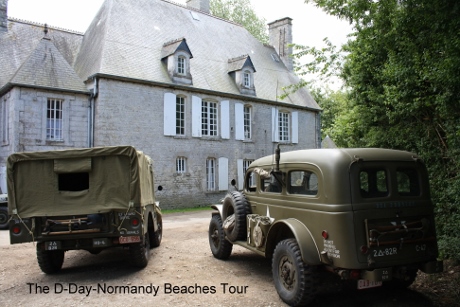 PORT-en BESSIN -the German defences, slit trenches, bunkers & the Normandy wrecks museum and the story of the Royal Marine Commandos that took the port
WILHELM FALLEY – The grave of the 1st German officer killed on D-Day
Improvised Runways – Location of former allied air-strip, used after D-Day
LONGUES SUR MER – Impressive and intact German Gun Battery and forward observation bunker, plus troop accommodation and trenches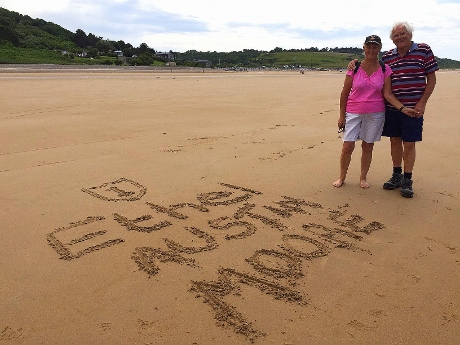 Extra Tour – PAS de CALAIS area….
THE ATLANTIK WALL GERMAN DEFENCES (Calais)
German bunkers, troop shelters, MG nests, foxholes, command posts, observation bunkers, huge gun casemates, trenches, R.A.F bomb crators, V1 & V2 rocket installations and launch sites, all along the French coast at Calais, Sangatte, Cap Gris Nez, Cap Blanc Nez, Wissant & Wimereaux.
LINDEMANN BATTERIE -Batterie Lindemaan former location.
WALDMANN BATTERIE – Batterie Waldmann.
TODT BATTERIE – Batterie Todt. (Huge German gun emplacement bunkers)
BADER – Plus a look at where Douglas Bader's Spitfire crashed. The hospital where he was treated and escaped from, the safehouse he used and the nearby Luftwaffe airfield and WW1 & WW2 Military Cemetery