THE THIRD REICH IN FLAMES TOUR
Please scroll down for my suggested & recommended locations, in Berlin, Munich, Nuremberg & Berchtesgaden (Obersalzberg/Eagle's Nest) and locations all over Germany
LUDENDORFF BRIDGE – REMAGEN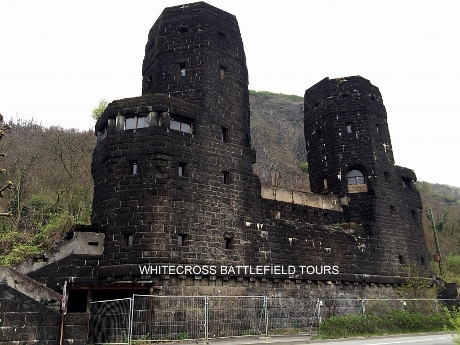 REMAGEN BRIDGE –
Battle for the Ludendorff Bridge (The Bridge at Remagen) 9th Armored Division. Additionally, there is an excellent museum here, with many artefacts, as well as the iconic, black, battle scarred railway bridge abutments and memorials
SIEGFRIED LINE
LUXEMBOURG BORDER – Battles and German defences around the German towns of Reisdorf, Bollendorf & Wallendorf on the Sauer River, on the German/Luxembourg border.
German observation posts and Bunkers, near Wallendorf, as well as one that Hitler himself visited (according to locals)
BETTENDORF – Bettendorf River crossing, on the German/Luxembourg border and the German Bunkers in the area
SKYLINE DRIVE
BRANDSCHEID, HABSCHEID & PRUM (The attacks through the Siegfried Line)
STOLZEMBOURG – Stolzembourg and the first allied patrol crossing, since Napoleonic times
BUNKERS
SAAR REGION – Heavy battles fought around the German towns of Beckingen & Dillingen, on the Saar River and a study of the German Westwall Bunkers in this sector.
MERZIG -We can go inside the bunker at Merzig and visit some dragon's teeth at Orscholz. (However – this is subject to opening times)
SAARBRUCKEN – Westwall German defences /bunkers/trenches etc near Saarbrucken (Saarland) and near Karlsruhe, Baden Wurttemberg- 
Additionally, we can visit to some of the French Maginot Line Bunkers and trenches.
Uniquely, the German defences in these areas, were amongst the strongest, of the entire Siegfried Line.             
FOXHOLES, BUNKERS & TRENCHES
                                                                                                                                                                                              OBEROTTERBACH & STEINFELD – I can take you deep into the forests, where their is an extensive network of camouflaged bunkers and masses of elaborate trench systems . Therefore – mostly untouched for over 70 years.
DRAGON'S TEETH – I will show you Dragon's Teeth  including a fine example of a "Panzergraben" and several bomb crators.
Fierce battles occurred here and hundreds of soldiers on both sides were killed or injured, in this now beautiful, peaceful, heavily forested region, that is also a famous Wine growing area.
WESTWALL & ST AVOLD
HITLER – Therefore, you can follow in the footsteps of Adolf Hitler, as he toured the Westwall defences here in 1938.
Also, for the more adventurous – there is an option here of taking a Westwall forest hike, with me, of between 6 and 12 kilometres, to show you the vast network of secret bunkers etc and traces of war.
SAINT AVOLD – The Saint Avold American Military Cemetery (Uniquely -The largest American WW2 Cemetery in central Europe) and a nearby Maginot Line Bunker
CASTLES
COLDITZ – Colditz Castle and some of the escape routes and evidence of escapes, including from the exercise park. Great photos here can be taken here at Colditz. Also – great artefacts in the little Colditz museum
WEWELSBURG – Himmler's mythical and sinister Wewelsberg Castle
FRIEDRICHSHAFEN – Ruins deep in the forest of a V2 Rocket testing site near Friedrichshafen and the Kommandant's House nearby
BOMB CRATORS – I will show you the huge bomb crators here, from the attacks on the site by R.A.F Bombers
LAGER – Also, the former Lager, where the slave labourers were housed and a former German army Kaserne
REICHSWALD Allied Military Cemetery, near the Dutch border
EUTHANASIA CENTRES & S.S SHOOTING RANGE
AKTION T4 Programme -The Euthanasia Centres – Hademar , Hartheim, Graffeneck, Sonnenstein etc, where the disabled and the mentally ill were gassed (over 72,000 victims)
RADOLFZELL – An S.S Shooting range for training Concentration Camp Guards (SS TOTENKOPF), hidden deep in the woods and the range walls are raked with bullet holes ! 
Nearby is a former S.S Kaserne. As a matter of fact, this is where all concentration camp guards were trained.
NECKAR RIVER – Additionally, I can take you to a huge and now derelict former German Helmet Factory. This factory produced the best quality of the 4 main factories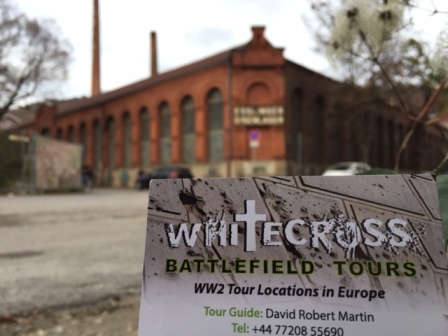 3rd REICH TOURS -BERLIN
AIR-RAID BUNKER – A huge former air-raid shelter
FUHRERBUNKER BERLIN – Location of the former "Fuhrerbunker" – Hitler's huge underground bunker, under the Reich Chancellery garden, where he committed suicide, along with his new bride – Eva Braun.
Magda Goebbel's poisoned her children here and together with her husband – Josef – also committed suicide
BRANDENBURG GATE – Brandenburg Tor (Brandenburg gate), on Pariser Platz, heavily damaged during the last days of "The Battle for Berlin"
REICHSTAG – Historic government Reichstag building, with it's impressive glass dome, giving a fantastic view over Berlin.
RUSSIANS – A huge battle took place in and outside this building, as the Nazi's tried desperately to prevent Russian soldiers from taking it
BOOK BURNING – Location of the infamous Jewish book burning by the Nazi's and memorial to this event
Wilhelmstrasse
Battle scarred buildings in and around Berlin
Heydrich's grave location
Humbolthain Flak Tower remains
VICTORY TOWER -The beautiful Victory Tower, near the Brandenburg Gate
Potsdamer Platz – where battles raged in the streets and buildings and which is now a major modern shopping area.
However, this location, has totally changed, since the end of the war, due to the massive damaged caused
CHECKPOINT CHARLIE & BERLIN WALL
CHECKPOINT CHARLIE  &  an impressive long section of the Berlin Wall
GESTAPO – Former Gestapo Headquarters location and re-discovered, original cell block floor and walls, with adjacent museum. Thousands of the Gestapo's victims were incarcerated, tortured and murdered here
Uniquely – the first Russian tanks to reach the centre are here, sitting proudly in front of a huge Soviet memorial, built from the rubble of the Reich Chancellery
TEIRGARTEN – The tranquil and leafy Teirgarten – where once tanks fired on each other and soldiers fought in hand to hand combat 
STAUFFENBERG -Former Wehrmacht Headquarters & The Claus Von Stauffenberg memorial and the execution location in the courtyard (Operation Valkyrie)
Holocaust Memorial (above the location of Goebbel's Bunker deep underground)
TEMPLEHOF – Templehof Flughafen (Luftwaffe Airport)
REICH CHANCELLERY – Original marble from the Reich Chancellery building
In addition to this, I will show you:
Bullet and shrapnel damaged statues, buildings and bridges 
Kaiser Wilhelm Memorial Church – Berlin (shrapnel damage to the walls)
Hotel Adlon
KROLL OPERA HOUSE -Location of the former Kroll Opera House
Abandoned Luftwaffe Airfield outside Berlin -runway, barracks, accommodation blocks etc
Former location of Spandau Prison – Berlin, where Rudolf Hess, Albert Speer and Karl Doenitz spent their last years
OLYMPIC STADIUM & WANNSEE VILLA
WANNSEE -Wannsee Villa -Where the "Final Solution of the Jewish question" was discussed and planned, by the Nazi hierarchy and chaired by Heydrich. T
Therefore, sealing the fate of the persecuted Jews
OLYMPIA STADION – Olympic Stadium, Bahnhof  & the impressive battle damaged Olympic bell – It still retains it's swastika
GRUNEWALD – Grunewald Bahnhof (Railway station) & memorial (deportation station for Berlin Jews to the concentration camps)
 Allied CWGC aircrew Cemetery – Berlin. Immaculately presented and in honour of our brave aircrews, who perished in the skies over the city
Luftwaffe Museum (inc original Messerschmitt ME109 on display here) and former Luftwaffe airfield
Treptower Park memorial along the River Spree -Berlin (built using marble from Hitler's  destroyed Reich Chancellery
 Seelow Heights Memorial – outside Berlin – A last desperate defensive battle occurred here, to try and prevent the masses of Russian troops and armour reaching the centre of Berlin
Lichterfelde Kaserne (Barracks)
GERMANIA -The unfinished load body (Germania)
RAVENSBRUCK
RAVENSBRUCK – Ravensbruck Concentration Camp (for Women prisoner's only), including former Kommandant , officer's and Guards accommodation.
Plus memorials to the Jewish women that were murdered here.
SIEMENS – A look at former Siemen's factory workshops and the huge camp wall. British S.O.E agents were incarcerated here, before being executed
CONCENTRATION CAMPS
SACHSENHAUSEN – Sachsenhausen Concentration Camp and it's execution pit , imposing Watchtowers, electrified fences, S.S Casino, and Jourhaus. 
The infamous "ARBEIT MACHT FREI" iron sign on the entrance gate to the prisoner's compound.
This is the camp where some of the Allied escapees from Stalag Luft 111 were held and from where 2 of them escaped from.
Also, it was here, in a separate barrack, that thousands of Counterfeit British Bank notes were manufactured, in a secret operation, by the S.S, using Jewish slave labour (Operation Bernhard)
GERMAN SURRENDER LOCATION
KEITEL SURRENDER – The Villa outside Berlin, where an angry Field Marshall -Wilhelm Keitel, was forced to sign the Geman surrender & museum, in front of the allies and the cameras.
You can see the original  huge oak  table here, where he sat in disgust and extremely reluctantly signed the documents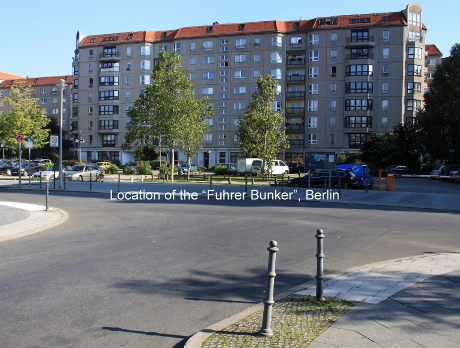 BRIDGES & PRISONS
REICHSMARSHALL Goering's huge Luftwaffe Air Ministry building – Berlin (Luftwaffe Headquarters)
MOLTKE BRIDGE – The battle scarred Moltke Bridge over the River Spree – Berlin. There was a massive battle for this key bridge, by the Russians to reach the heavily defended Reichstag nearby
PLOTZENSEE PRISON
PLOTZENSEE  – Plotzensee Prison & it's sinister execution chamber- Berlin – Thousands opposed to the Third Reich were murdered here, after being sentenced by S.S Judge – Roland Freisler, at the "People's Court" .
EXECUTIONS  – The metal hooks are still here on the roof beams, from where the victims were hung. There used to be a Guillotine in this buliding
ROLAND FREISLER – NAZI JUDGE
PEOPLE'S COURT – The former location of "The People's Court" (Where Nazi fanatic & judge -Roland Freisler was killed by falling masonry, from an allied bomb)
ANHALTER BAHNHOF – Facade of the once beautiful Anhalter Bahnhof- Berlin. The Railway station which Adolf Hitler would often arrive at, when returning to Berlin
BERCHTESGADEN / OBERSALZBERG /EAGLES' NEST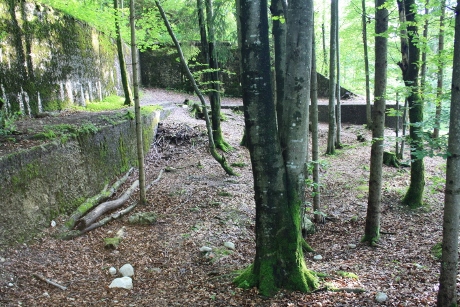 OBERSALZBERG – Hitler's daily walk to the Teehause, (Mooslahnerkopf), with Eva Braun, top Nazis and dignitaries, his Berghof staff , his dog Blondi and a nearby"Moll Bunker".
(We follow his exact route) Stunning mountain scenery here on the Obersalzberg
EAGLE'S NEST (Kehlsteinhaus)- Obersalzberg (stunning scenery here) An impressive gift from Martin Bormann for Hitler's  5oth birthday
BERGHOF – ruins (Hitler's main house) Obersalzberg
3RD REICH TOURS
ZUM TURKEN – Hotel Zum Turken next to Hitler's Berghof and below the Eagle's Nest (Hitler's former S.S bodyguard unit resided here), it's air raid shelter, sentry post and the fortified underground tunnels to Bormann's Villa and Hitler's Berghof
Albert Speer's former residence – on the Obersalzberg
Hermann Goering – The Railway Tunnel and railway spur line, where  a mass of Goering's stolen art pieces were discovered- Berchtesgaden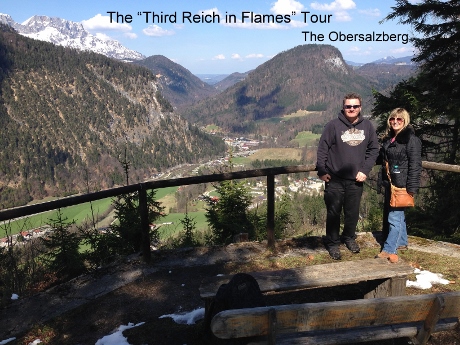 STUNNING MOUNTAIN ALPINE SCENERY
BERCHTESGADEN  -The beautiful Bavarian town of Berchtesgaden and the Railway station, where Hitler and his important guests would arrive by train
GUARDHOUSES – Former outer perimeter guardhouses and foundations of the inner perimeter guardhouses -Obersalzberg
PLATTERHOF -Locations of the former Platterhof -Obersalzberg and the Greenhouse
S.S Kaserne (barracks) and huge Third Reich Nazi Eagle above the entrance
COAL BUNKER – The huge coal bunker – Obersalzberg
Crators on the hillside, from the R.A.F bomber attacks in April 1945
BORMANN – Former locations of Bormann's & Goering's villas – Obersalzberg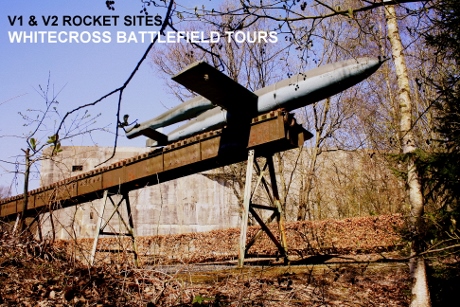 Furthermore, we can visit – Adolf Hitler's top secret bunker headquarters locations, in France & Germany
Disused German War  production factories & Lazarette's (Military Hospitals)
Dam Busters raid  (The Moehne , Sorpe & Eder Dams)
R.A.F – Lancaster & Halifax Bomber crash site locations & Memorials
Luftwaffe crash site locations
Mauserwerke Factory on the River Neckar (where K98 Mauser rifles were mass produced)
Josef Mengele's (The so-called- Angel of Death's) home town and family home
Mengele Factory
KZ Eckerwald Memorial (where the Nazis tried by deep drilling, to extract fuel from shale), late in the War, using Slave labour and a nearby Cemetery for the victims and former Camp & barracks locations
TEGERNSEE & DURNBACH CEMETERY
V1 & v2 Rocket manufacture sites, ramps, testing site and launching sites
ME262 – Former secret factory locations, for the manufacture of the Messerschmitt ME262 Jet fighters, using slave labour
Himmler's holiday home on beautiful Lake Tegernsee – stunning Alpine mountain & lake scenery here and a perfect place to stop for lunch, or a German beer
TEGERNSEE – The derelict former Hotel, on stunning Lake Tegernsee, where Hitler arrested his rival -Ernst Rohm and his colleagues (This could be demolished soon)
In addition to this, we will also visit:
Durnbach CWGC Allied Military Cemetery, near beautiful Lake Tegernsee, including a discussion about some R.A.F Lancaster & Halifax crews, whose graves are here, lying side by side
NUREMBERG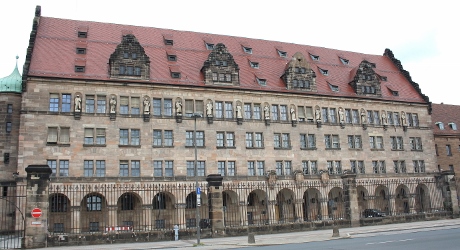 THIRD REICH ARCHITECTURE
RALLY GROUNDS – Nuremberg Nazi party rally grounds (Zeppelin feld) and Fuhrer tribune, where between 1933 and 1938. Additionally, we can visit the impressive museum here
RALLIES – Hitler held 6 annual speeches, to hundreds of thousands of assembled troops and Nazi supporters. (700,000 were in attendance in 1938)
 Luitpoldarena (deployment area)
 Ehrenhalle
 Zeppelinfeld with it's still intact Fuhrer tribune (Where Hitler stood to address the crowds)
 Ehrentribune
 Marzfeld
 Great Road (unfinished parade road)
Frankenstadion
NURENMBERG BEAUTIFUL OLD TOWN
Key sites in the beautifully restored Aldstadt (old town)
SCHLOSS – The beautiful Nuremberg Schloss (Castle)
Third Reich – Hotel Deutsches Hof  & balcony (where Hitler resided & viewed parades from the balcony) Nuremberg
NUREMBERG TRIALS -The infamous Nuremberg Courthouse, where top Nazis – Hermann Goering, Admiral Karl Doenitz, Albert Speer, Ribbentrop, Rudolf Hess, Von Pappen, Keitel, Jodl etc met their fate
Kongresshalle, Nuremberg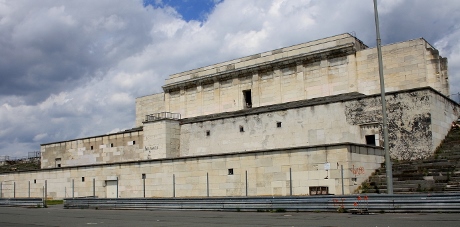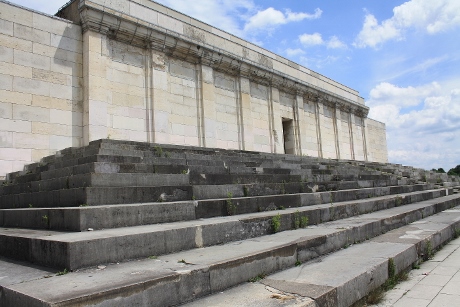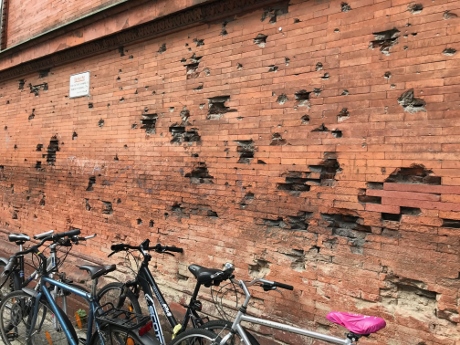 MUNICH/SOPHIE SCHOLL -THE WHITE ROSE TOUR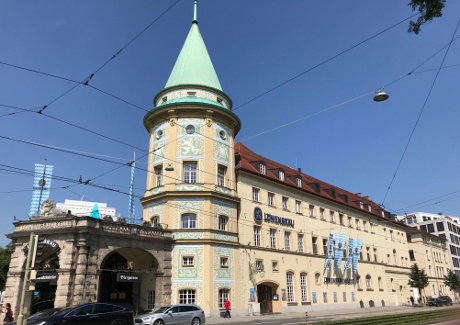 HITLER'S SPEECH LOCATIONS
HOFBRAUHAUS – The Hofbrauhaus in Munich (Hitler's early speeches were held here) Great place for a photo, lunch, or a cold German beer from the brewery itself !
BURGERBRAUKELLAR – The former Burgerbraukellar location in Munich (Hitler's favoured Beer Kellar for speeches). I will show you the exact spot where Georg Elser's bomb went off
LOWENBRAUKELLAR – Hitler held several early party speeches in this beautiful building
BEER HALL PUTSCH
BEER HALL PUTSCH  – We can follow the exact route taken by the "Putschist's" into Munich.
Below: One of Hitler's apartments was at the front of  this building
IMPORTANT BUILDINGS
Konigsplatz in Munich, with it's stunning architecture (The Propylaen, Fuhrerbau, Glyptothek etc
EHRENTEMPEL – The location of the former Ehrentempel's, where the "Putschist's" bodies were placed
KRIEGSMINISTERIUM – The former Kriegsministerium building
Restaurants & cafe's which Hitler favoured and visited many times, inc the Hofgarten
Residentsplatz
FELDHERNHALLE –  location of the Feldherrenhalle in Munich (On Odeonsplatz) site of the failed Beer Hall Putsch
2 of Hitler's former residences in Munich
Additionally – LANDSBERG Prison near Munich, where Hitler  was imprisoned and wrote "Mein Kampf" and thereafter -where many S.S criminals were executed after the war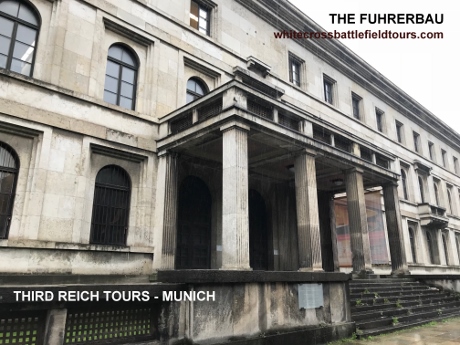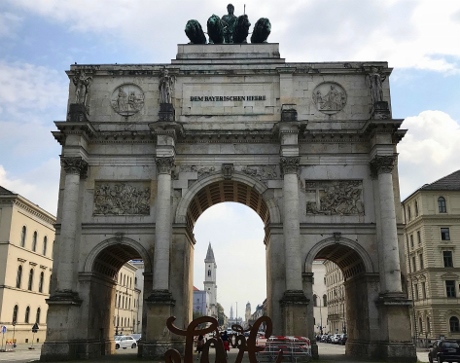 THE WHITE ROSE
SOPHIE & HANS SCHOLL –
WHITE ROSE -The tragic but heroic  story of Hans & Sophie Scholl & the "White Rose Movement"
– The University where Sophie & Hans dropped thousands of anti-Nazi leaflets. However – they were caught,  interrogated by the Gestapo and ultimately executed
TRIAL -The Courthouse building where they were put on trial, the apartment where they lived, their graves and some poignant memorials to this extremely brave group of young students
WITTELSBACH  -Former Gestapo Headquarters in Munich location (The Wittelsbach Palace)
STADELHEIM  – Stadelheim Prison, where the members of the White Rose were incarcerated and murdered
DACHAU CONCENTRATION CAMP
Dachau Concentration Camp near Munich (The 1st Concentration Camp to be operational in 1933) – including the Jourhaus ( main gatehouse).  
Execution yard, watchtowers, crematorium, cell blocks etc, execution wall in the woods, mortuary, memorials.
DEATH TRAIN – the location in Dachau, where the infamous "Death Train" was discovered, re-constructed barracks, museum etc.
Here you will see the infamous – "ARBEIT MACHT FREI" sign on the iron entrance gate
KAUFERING Camps – near Munich (Concentration Camps)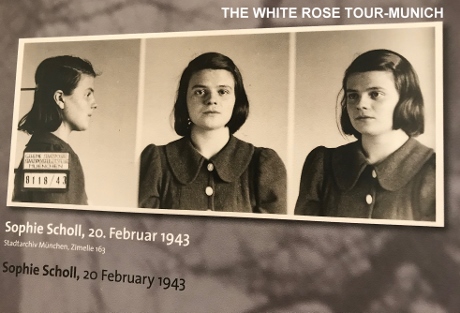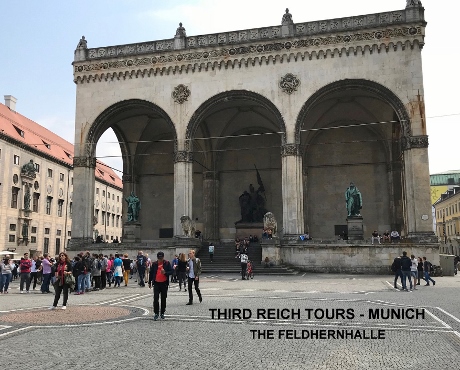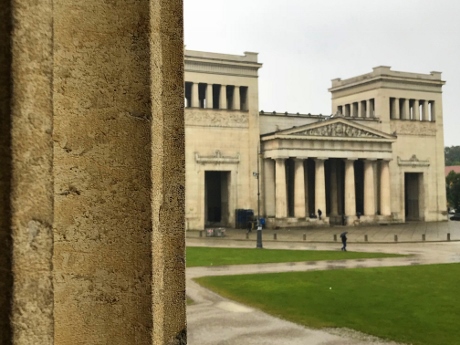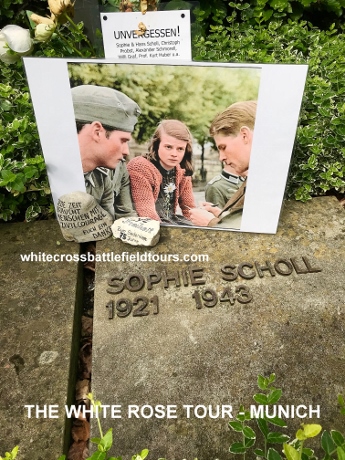 OTHER PLACES IN GERMANY
Stalag Luft 111 (The Great Escape) -Sagen and the nearby train station, where many of the "escapees" boarded trains (Stammlager Luft 111)
KASERNE'S – Also, we can visit -Waffen S.S, Luftwaffe & Wehrmacht Kaserne's (Barracks) all over Germany
Also:
Wehrmacht Kaserne (Barracks) Stuttgart
Stuttgart flak towers and thousands of tons of rubble, from the destroyed city
Karlsruhe – German Westwall Bunkers and extensive trench systems near the city
EXTRA LOCATIONS IF DESIRED – many many more, lesser known locations, associated with the Third Reich era….