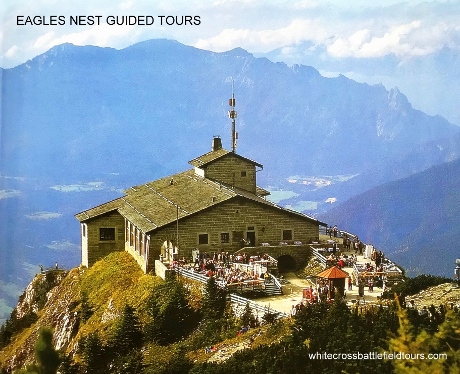 THIRD REICH TOURS
Please scroll down for my suggested & recommended 3rd Reich Tour locations, in Munich, Berchtesgaden (Obersalzberg/Eagle's Nest) & Nuremberg, plus many more locations, all over Germany
BERCHTESGADEN / BERGHOF / OBERSALZBERG /EAGLES' NEST TOUR
This is a 2 day guided Tour, exploring many Third Reich locations, on the Obersalzberg and in and around the beautiful little Bavarian town of Berchtesgaden, near Salzburg.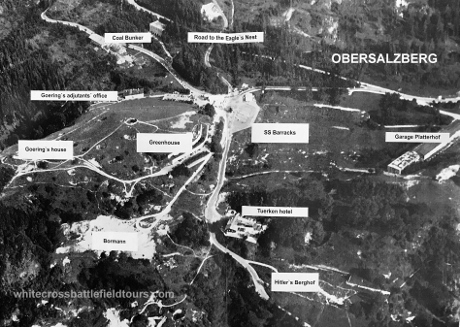 Below: former location and the retaining wall of Hitler's house – The Berghof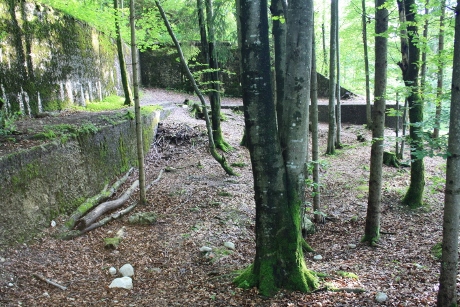 Locations such as:
EAGLE'S NEST – The so – called "Eagle's Nest"  (Kehlsteinhaus) – contrary to what many people think – was not Hitler's home on the Obersalzberg. His huge Villa – "The Berghof" -was lower down the mountain.
Hitler rarely visited the Kehlsteinhaus (Eagle's Nest). Eva Braun and top Nazis, along with important guests, frequently visited the Eagle's Nest
Therefore, thousands of tourists, who visit this area, every year, miss out on a very important opportunity, to view the location of Hitler's house – "The Berghof" and so many crucial Third Reich locations, dotted all around it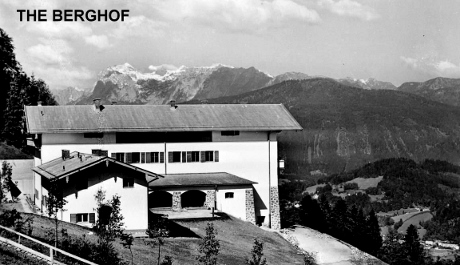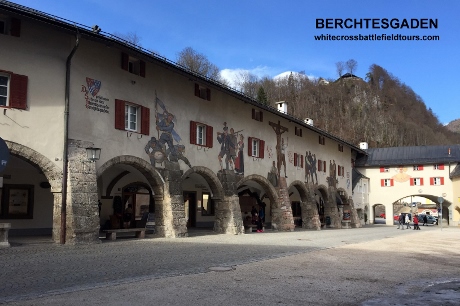 OBERSALZBERG –  We reciprocate Hitler's daily walk to the Teehause, (Mooslahnerkopf), with  Eva Braun, top Nazis and dignitaries, his Berghof staff & his dog Blondi. (We follow the exact route) Stunning mountain scenery can be viewed from here ! It was one of Hitler's favourite locations and he made many military decisions here, as he gazed towards his beloved Austrian homeland
EAGLE'S NEST (Kehlsteinhaus)- Obersalzberg (stunning scenery here) An impressive gift from Martin Bormann for Hitler's  5oth birthday.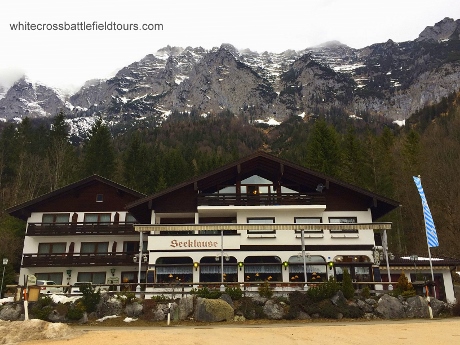 However, we have to get the early morning bus, to avoid the crowds. We travel up to the Eagle's Nest, by bus and then enter the original brass panelled elevator, that takes us up into the building itself, which nowadays is a restaraunt (Optional challenging 15 minute hike back to the car park area)
If the weather is clear, you will see stunning panoramic mountain alpine scenery, inc panoramic views of the Unterberg & Walzmann Mountains
 BERGHOF – location and ruins of Hitler's once stunning main house, on the Obersalzberg and original it's retaining wall
Below photo – Goering's Villa – Landgaus Goering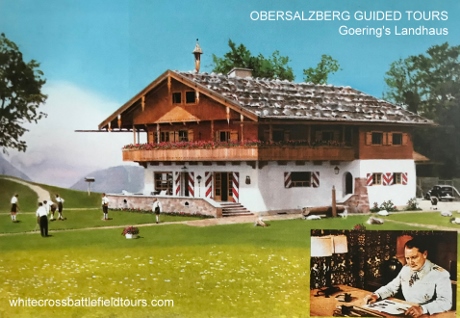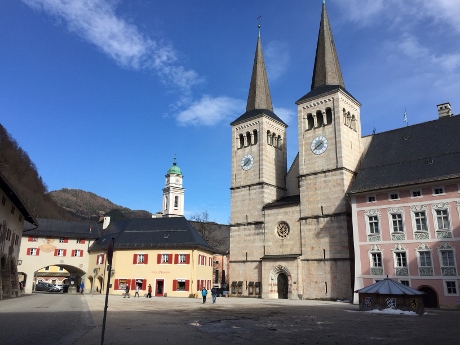 ZUM TURKEN – Hotel Zum Turken, built around 1630, was situated right next to Hitler's Haus Wachfeld – later re-named – TheBerghof and below the Eagle's Nest (Hitler's former S.S bodyguard unit resided here, in the Zum Turken), it's air raid shelter, sentry post and the 4 miles of fortified underground tunnels to Bormann's Villa and Hitler's Berghof are directly underneath it. We can explore a good preserved section of this extensive tunnel system.
Albert Speer's former residence – on the Obersalzberg. However, this is private property
Hermann Goering – The unfinished Railway Tunnel and railway spur line, where  a mass of Goering's stolen art pieces were discovered- Berchtesgaden
 Berchtesgaden Cemetery where Hitler's sister Paula is buried
Berchtesgaden War Memorial and it's beautiful original mosaics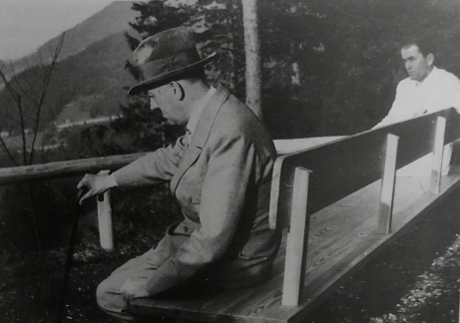 We can visit one of the air-raid tunnel exits on the Obersalzberg (difficult terrain & optional)
I will show you an intact concrete "Moll" Bunker and traces of the S.S inner perimeter security fencing. The Moll Bunkers were solely to protect 2 S.S guards, in the event of an allied air-raid. 30 of them were built on the Obersalzberg & in and around Berchtesgaden. Only 2 intact ones survive.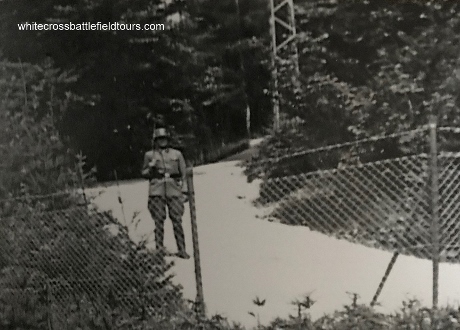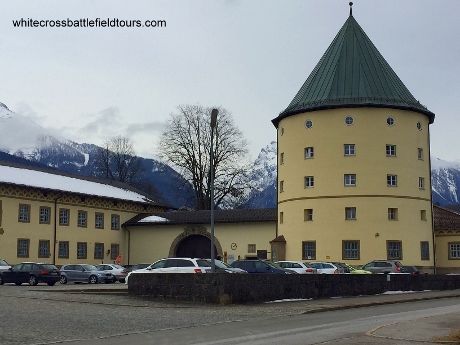 The Klaushohe Housing area
The Buchenhohe area
Theater Hall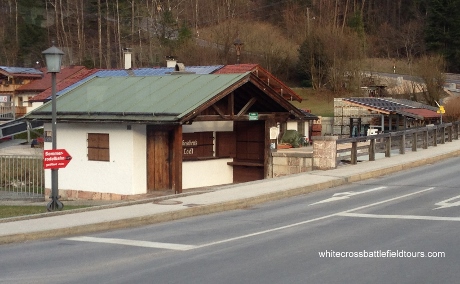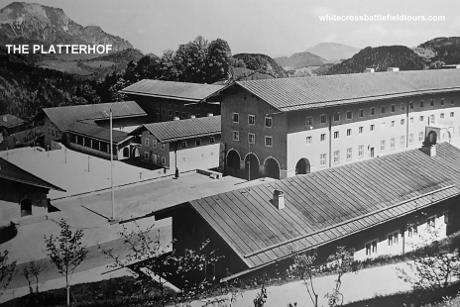 Obersalzberg Documentation Centre & Museum, inc original air-raid tunnel
Gutshof Farm location
Former locations and foundations of anti-aircraft guns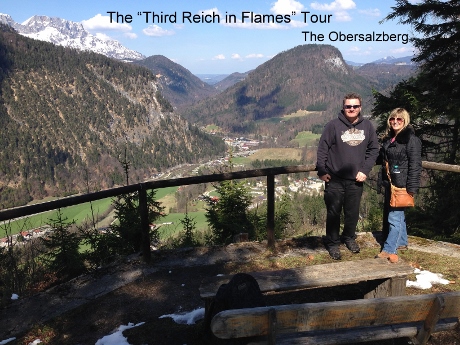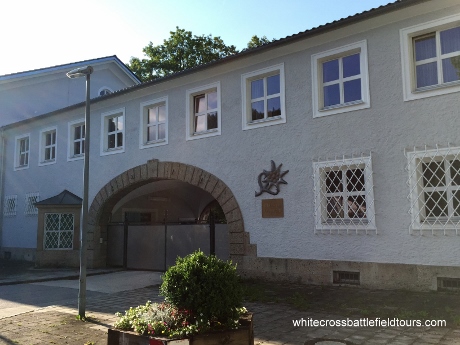 STUNNING MOUNTAIN ALPINE SCENERY
BERCHTESGADEN  -The beautiful Bavarian town of Berchtesgaden and the Railway station, where Hitler and his important guests would arrive by train
The air-raid shelter tunnel entrance, in Berchtesgaden, for the civillians & railway workers
GUARDHOUSES – Former outer perimeter guardhouses and foundations of the inner perimeter guardhouses -Obersalzberg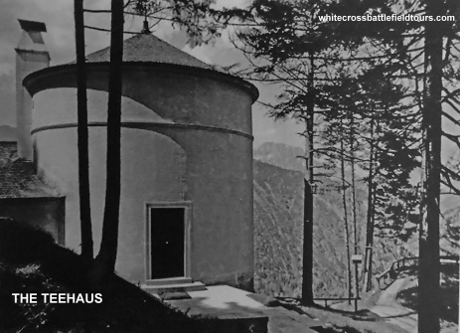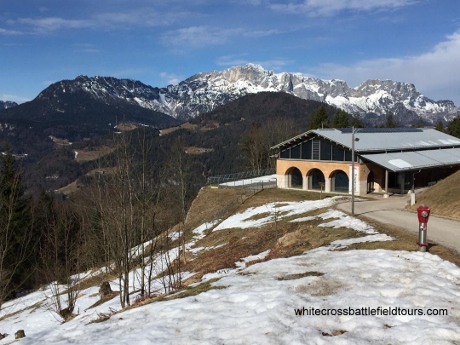 PLATTERHOF -Location of the former Platterhof  Hotel -Obersalzberg and the Greenhouse
Altenberg area
Gebirgsjager Kaserne (Former SS Mountain Troops barracks, with 3rd Reich Eagle
Bad Reichenhall Military Barracks with 3rd Reich Eagle
The stunning Obersee & Konigsee Lakes, which Hitler and Eva Braun visited for relaxation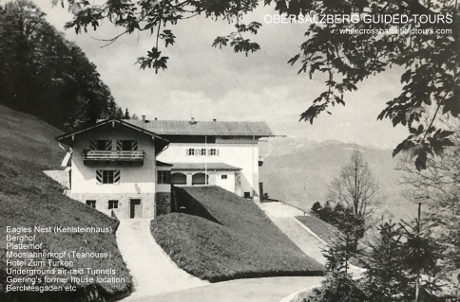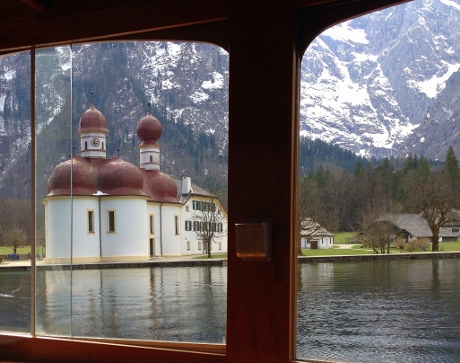 COAL BUNKER – The huge coal bunker – Obersalzberg
Foundations of a little wooden chalet, in the forest (Kampfhausl),  where Hitler completed his book "Mein Kampf" (My Struggle)
Huge Crators on the hillside, from the April 25th 1945 R.A.F heavy air-raid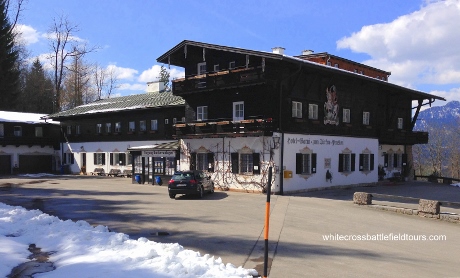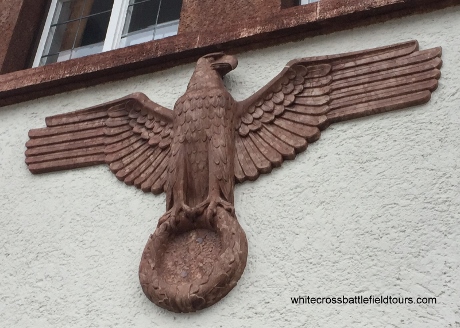 MARTIN BORMANN – Former locations of Reichsleiter Bormann & Luftwaffe Chief – Hermann Goering's villas – Obersalzberg
Goering's adjutant's intact villa (undamaged from the bombing raid)
A tunnel exit, that once led from Bormann's Villa (optional as difficult terrain)
The Obersalzberg and Berchtesgaden locations, are in an area of outstanding natural beauty, surrounded by beautiful aqua green lakes, stunning waterfalls and breathtaking mountain scenery. It is also very close to the beautiful Austrian city of Salzburg.
Therefore, a wonderful location, to spend a vacation, sighseeing, hiking, cycling, mountain climbing, or just relaxing outside one of many superb restaurants
To enquire about, or to book a Third Reich Tour in this area, please email me at: whitecrossbattlefieldtours@gmail.com
OTHER TOUR LOCATIONS IN GERMANY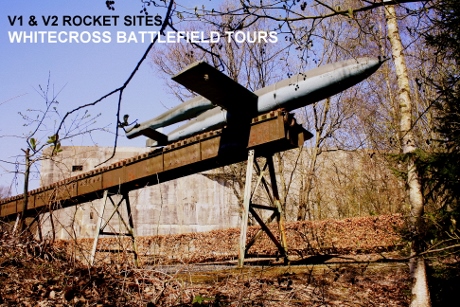 Furthermore, we can visit – Adolf Hitler's top secret bunker headquarters locations, in France & Germany
Disused German War  production factories & Lazarette's (Military Hospitals)
Colditz & Wewelsburg Castles
Remagen – The Ludendorff Bridge
Radolfzell – S.S Shooting range/training range
Dam Busters raid  (The Moehne , Sorpe & Eder Dams)
R.A.F – Lancaster & Halifax Bomber crash site locations & Memorials
Luftwaffe crash site locations
Mauserwerke Factory on the River Neckar (where K98 Mauser rifles were mass produced)
Josef Mengele's (The so-called- Angel of Death's) home town and family home
Mengele Factory -Gunzburg
KUNO 1 – Messerschmitt Me 262 Jet Fighter – secret factory in the forest location inc nearby Luftwaffe airfield
KZ Eckerwald Memorial (where the Nazis tried by deep drilling, to extract fuel from shale), late in the War, using Slave labour and a nearby Cemetery for the victims and former Camp & barracks locations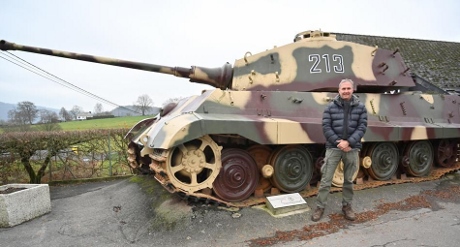 TEGERNSEE & DURNBACH CEMETERY
V1 & v2 Rocket manufacture sites, ramps, testing site and launching sites
ME262 – Former secret factory locations, for the manufacture of the Messerschmitt ME262 Jet fighters, using slave labour
Himmler's holiday home on beautiful Lake Tegernsee – stunning Alpine mountain & lake scenery here and a perfect place to stop for lunch, or a German beer
TEGERNSEE – The derelict former Hotel, on stunning Lake Tegernsee, where Hitler arrested his rival -Ernst Rohm and his colleagues (This could be demolished soon)
In addition to this, we will also visit:
Durnbach CWGC Allied Military Cemetery, near beautiful Lake Tegernsee, including a discussion about some R.A.F Lancaster & Halifax crews, whose graves are here, lying side by side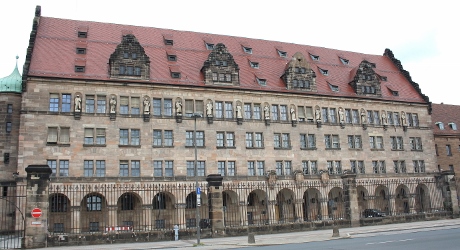 NUREMBERG -THIRD REICH ARCHITECTURE
RALLY GROUNDS – Nuremberg Nazi party rally grounds (Zeppelin feld) and Fuhrer tribune, where between 1933 and 1938. Additionally, we can visit the impressive museum here
RALLIES – Hitler held 6 annual speeches, to hundreds of thousands of assembled troops and Nazi supporters. (700,000 were in attendance in 1938)
 Luitpoldarena (deployment area)
 Ehrenhalle
 Zeppelinfeld with it's still intact Fuhrer tribune (Where Hitler stood to address the crowds)
 Ehrentribune
 Marzfeld
 Great Road (unfinished parade road)
Frankenstadion
NURENMBERG BEAUTIFUL OLD TOWN
Key sites in the beautifully restored Aldstadt (old town)
SCHLOSS – The beautiful Nuremberg Schloss (Castle)
Third Reich – Hotel Deutsches Hof  & balcony (where Hitler resided & viewed parades from the balcony) Nuremberg
NUREMBERG TRIALS -The infamous Nuremberg Courthouse, where top Nazis – Hermann Goering, Admiral Karl Doenitz, Albert Speer, Ribbentrop, Rudolf Hess, Von Pappen, Keitel, Jodl etc met their fate
Kongresshalle, Nuremberg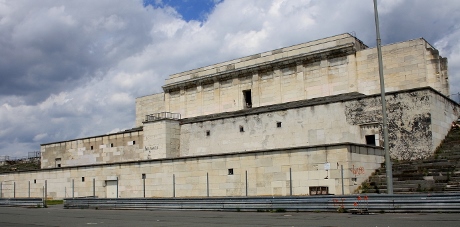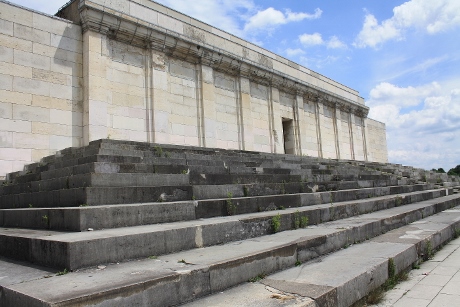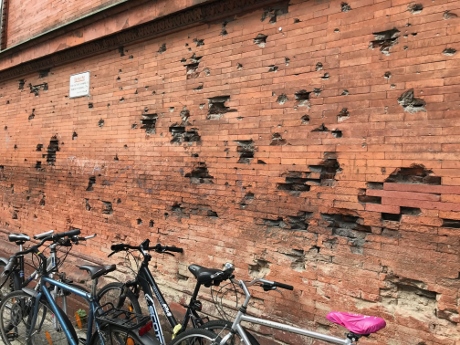 MUNICH / DACHAU & SOPHIE SCHOLL -THE WHITE ROSE TOUR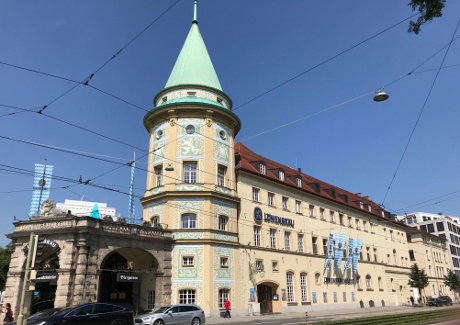 HITLER'S SPEECH LOCATIONS
Locations such as:
HOFBRAUHAUS – The Hofbrauhaus in Munich (Hitler's early speeches were held here) Great place for a photo, lunch, or a cold German beer from the brewery itself !
BURGERBRAUKELLAR – The former Burgerbraukellar location in Munich (Hitler's favoured Beer Kellar for speeches). I will show you the exact spot where Georg Elser's bomb went off
LOWENBRAUKELLAR – Hitler held several early party speeches in this beautiful building
BEER HALL PUTSCH
BEER HALL PUTSCH  – We can follow the exact route taken by the "Putschist's" into Munich.
Below: One of Hitler's apartments was at the front of  this building
IMPORTANT BUILDINGS
Such as: The beautiful Konigsplatz in Munich, with it's stunning architecture (The Propylaen, Fuhrerbau, Glyptothek etc)
EHRENTEMPEL – The location of the former Ehrentempel's, where the "Putschist's" bodies were placed
KRIEGSMINISTERIUM – The former Kriegsministerium building
Restaurants & cafe's which Hitler favoured and visited many times, inc the Hofgarten
Residentsplatz
FELDHERNHALLE –  location of the Feldherrenhalle in Munich (On Odeonsplatz) site of the failed Beer Hall Putsch
2 of Hitler's former residences in Munich
Additionally – LANDSBERG Prison near Munich, where Hitler  was imprisoned and wrote "Mein Kampf" and thereafter -where many S.S criminals were executed after the war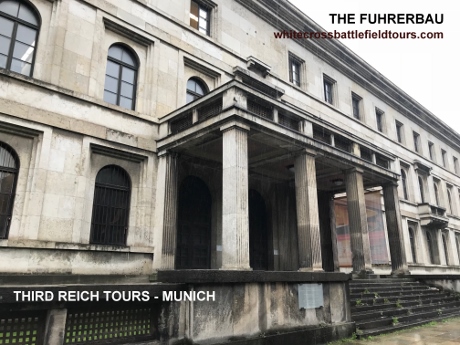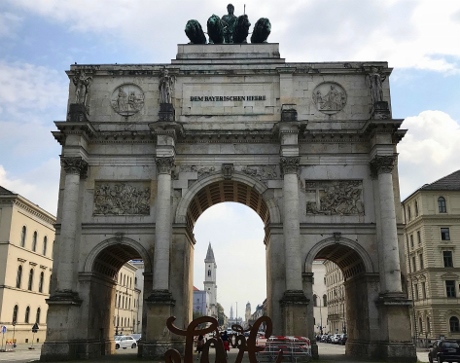 THE WHITE ROSE
SOPHIE & HANS SCHOLL –
Locations such as:
WHITE ROSE -The tragic but heroic  story of Hans & Sophie Scholl & the "White Rose Movement"
– The University where Sophie & Hans dropped thousands of anti-Nazi leaflets. However – they were caught,  interrogated by the Gestapo and ultimately executed
TRIAL -The Courthouse building where they were put on trial, the apartment where they lived, their graves and some poignant memorials to this extremely brave group of young students
WITTELSBACH  -Former Gestapo Headquarters in Munich location (The Wittelsbach Palace)
STADELHEIM  – Stadelheim Prison, where the members of the White Rose were incarcerated and murdered
DACHAU CONCENTRATION CAMP
Dachau Concentration Camp near Munich (The 1st Concentration Camp to be operational in 1933) – including the Jourhaus ( main gatehouse).  
Plus other important sites at Dachau, such as the execution yard, watchtowers, crematorium, cell blocks etc, execution wall in the woods, mortuary & memorials.
DEATH TRAIN – the location in Dachau, where the infamous "Death Train" was discovered, re-constructed barracks, museum etc.
Here you will see the infamous – "ARBEIT MACHT FREI" sign on the iron entrance gate
KAUFERING Camps – near Munich (Concentration Camps)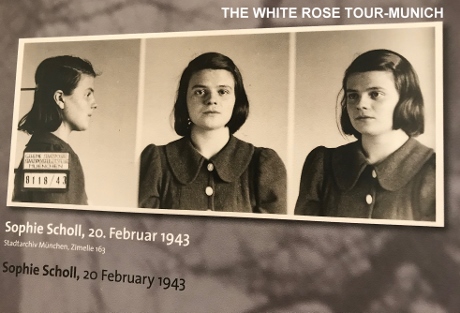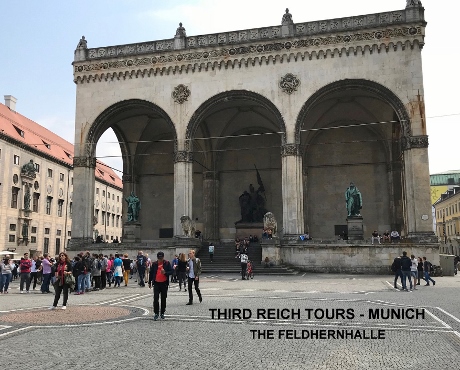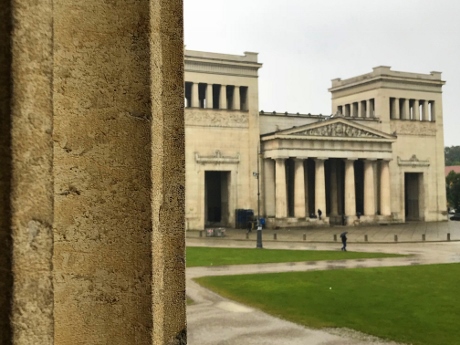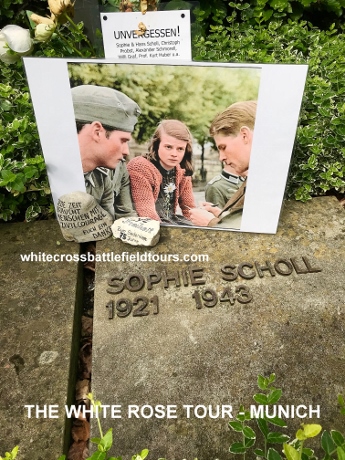 OTHER PLACES IN GERMANY
Stalag Luft 111 (The Great Escape) -Sagen and the nearby train station, where many of the "escapees" boarded trains (Stammlager Luft 111)
KASERNE'S – Also, we can visit -Waffen S.S, Luftwaffe & Wehrmacht Kaserne's (Barracks) all over Germany
Other locations such as:
Wehrmacht Kaserne (Barracks) Stuttgart
Stuttgart flak towers and thousands of tons of rubble, from the destroyed city
Karlsruhe – German Westwall Bunkers and extensive trench systems near the city
Peenemunde
EXTRA LOCATIONS IF DESIRED – many many more, lesser known locations, associated with the Third Reich era….