The Third Reich In Flames Tour
Please scroll down for details of my "Third Reich Tours", in Munich, Dachau, Eagle's Nest, Berchtesgaden, Obersalzberg & Landsberg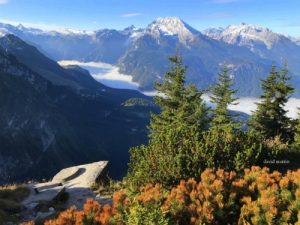 TOUR NUMBER 1
BERCHTESGADEN / OBERSALZBERG / EAGLE'S NEST/ KONIGSEE
The Third Reich in Flames Tour, is a 2 or 3 day guided Tour, exploring many former Third Reich era locations, on the Obersalzberg and historic places, in and around the beautiful little Bavarian town of Berchtesgaden, near Salzburg.
However, if you require a longer Third Reich tour, this tour can be extended to 4 or 5 days and would include Munich, Dachau & Landsberg (see Munich & Dachau Tour information further down this page)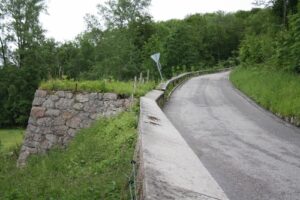 Therefore, from the moment we step out of our cozy Bavarian guesthouse, or hotel, you will witness the most stunning & photogenic panoramic scenery in the whole of Southern Germany – The Berchtesgadener Alps.
We will pass through many beautiful and traditional Bavarian villages, nestled between steep green valleys, surrounded by extensive pine forests, snow-capped Mountains, wonderful lakes and fast flowing streams, with crystal clear alpine water
SALTMINE – If you wish, we can also visit the local 500 year old Saltmine (optional extra)
We will have delicious & relaxing lunches, in stunning lakeside and mountainside locations, together with simply breathtaking views. We will sample the local Bavarian beers and dine in the evenings, in charming local restaurants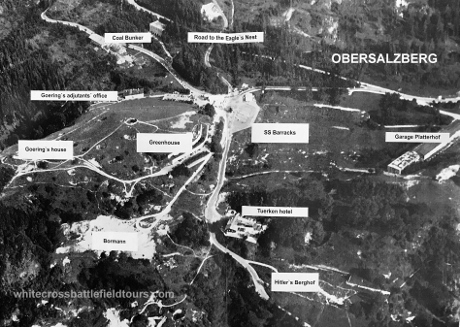 Below:  Former location and the retaining wall of Adolf Hitler's huge Obersalzberg house – The Berghof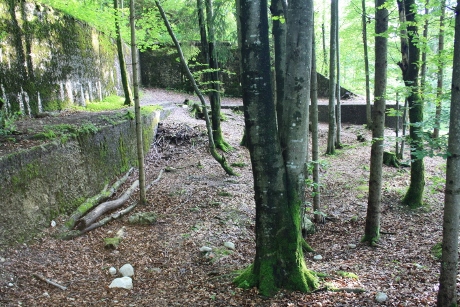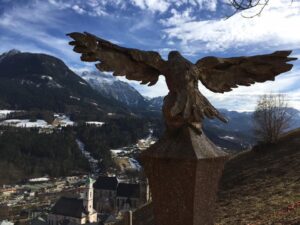 EAGLE'S NEST – The so – called "Eagle's Nest" (Kehlsteinhaus), perched high up on the Kehlstein Mountain- contrary to what many people think – was not Hitler's home on the Obersalzberg.
His huge Villa – "The Berghof" – was lower down the mountain.
Hitler rarely visited the Kehlsteinhaus (Eagle's Nest). Eva Braun and top Nazis, along with important guests, frequently visited the Eagle's Nest
Therefore, thousands of tourists, who visit this area, every year, miss out on a very important opportunity, to view the location of Hitler's house – "The Berghof" and so many crucial Third Reich locations, dotted all around it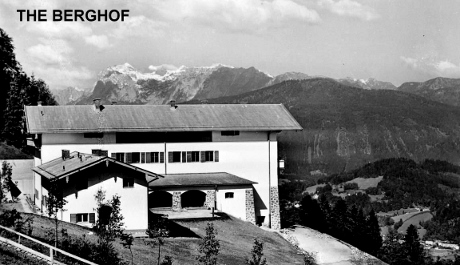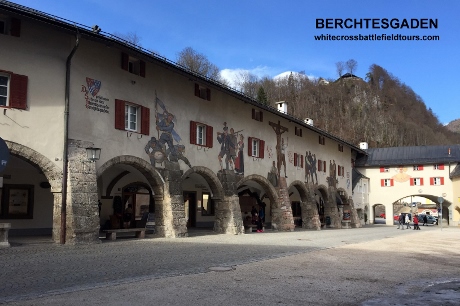 OBERSALZBERG –  We reciprocate Hitler's daily walk to the Teehause, on the Mooslahnerkopf, with Eva Braun, Albert Speer, Goering, Ribbentrop etc, his secretaries & his dog Blondi. (We follow the exact route). Incredible & stunning mountain scenery can be viewed from here ! It was one of Hitler's favourite locations and he made many military decisions here, as he gazed towards his beloved Austrian homeland.
On a clear day, you can see Salzburg Castle in the distance !
KEHLSTEINHAUS – (EAGLE'S NEST) – Obersalzberg (stunning scenery here) An impressive gift from Martin Bormann for Hitler's  5oth birthday…..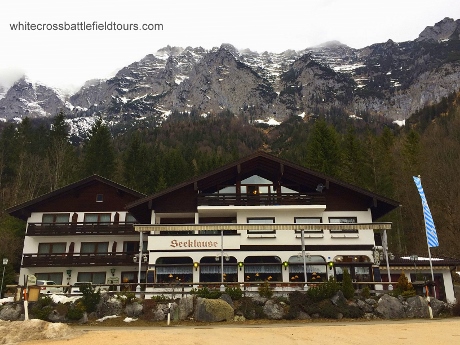 However, we have to get the early morning bus, to avoid the crowds. We travel up to the KEHLSTEINHAUS "Eagle's Nest", by bus and then enter the original brass paneled elevator, that takes us up into the building itself, which nowadays is a restaurant
STUNNING ALPINE SCENERY – If the weather is clear, you will see stunning panoramic mountain alpine scenery, inc panoramic views of the Untersberg & Watzmann Mountains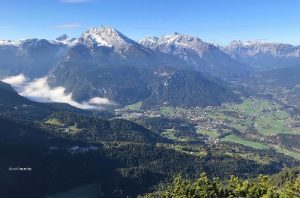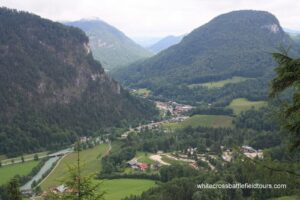 BERGHOF – location and ruins of Hitler's once stunning main house, on the Obersalzberg and it's  original rear retaining wall.  Hitler bought "Haus Wachenfeld" and had it extended several times, changing the name to the Berghof
ADVANCE & LIBERATION OF BERCHTESGADEN – I will show you the key sites, where American & French troops crossed the Salzach River and entered the Berchtesgaden area (101st Airborne Easy Company etc)
Below photo – Goering's Villa – Landgaus Goering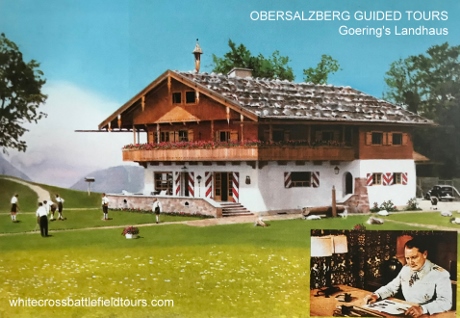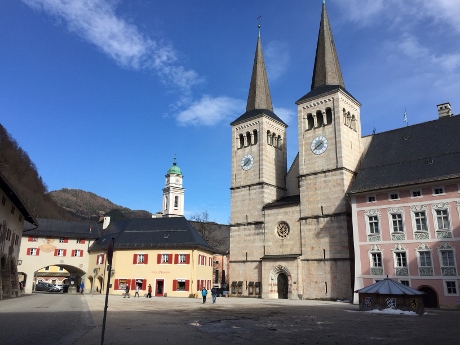 ZUM TURKEN – Hotel Zum Turken, built around 1630, was situated right next to Hitler's Haus Wachenfeld – later re-named – The  Berghof and below the Eagle's Nest (Hitler's former S.S bodyguard unit resided here, in the Zum Turken) 
FORTIFIED UNDERGROUND TUNNEL SYSTEM TO THE BERGHOF – You will see the Zum Turken's air raid shelter, sentry post and some of the 4 miles of deep, fortified underground tunnels, to Bormann's Villa and Hitler's Berghof, which are directly underneath it. We can explore a good preserved section of this extensive tunnel system
ALBERT SPEER – Albert Speer's former residence & architects studio- on the Obersalzberg. However, this is private property, but we can view from a distance for photos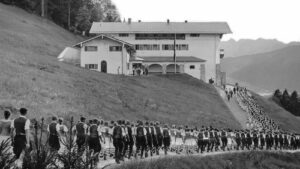 Hermann Goering – The unfinished Railway Tunnel and railway spur line, where  a mass of Goering's stolen art pieces were discovered- Berchtesgaden
PAULA HITLER'S GRAVE –  Cemetery where Hitler's sister Paula Hitler is buried
3RD REICH ERA MOSAICS & ARCHITECTURE – Berchtesgaden War Memorial and it's beautiful original mosaics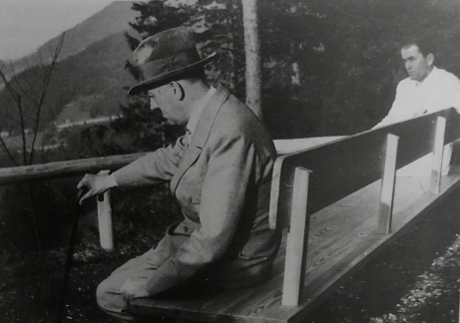 MOLL BUNKERS – I will show you an intact concrete "Moll" Bunker and traces of the S.S inner perimeter security fencing. The Moll Bunkers were solely to protect 2 S.S guards, in the event of an allied air-raid.
30 of them were built on the Obersalzberg & in and around Berchtesgaden. Only 1 intact one survives and the ruins of several others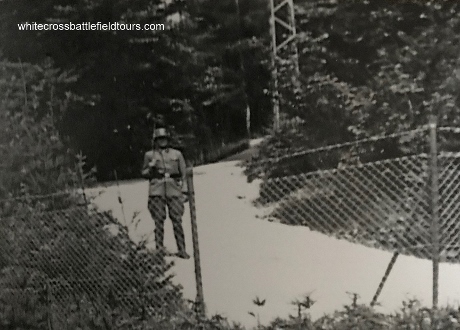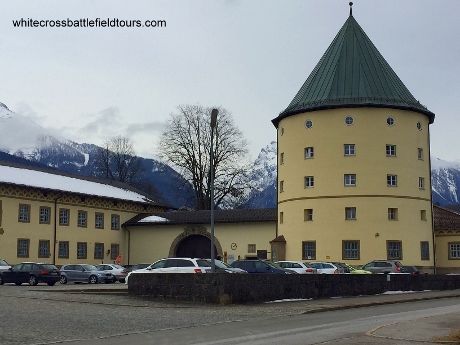 KLAUSHOHE – The Klaushohe Settlement – Built for S.S married personnel & administration workers
BUCHENHOHE  – former accommodation settlement for loyal party members (never finished)
THEATRE – Theater Hall -The foundations of the huge theatre
ANTENBERG – former accommodation barracks & settlement for construction workers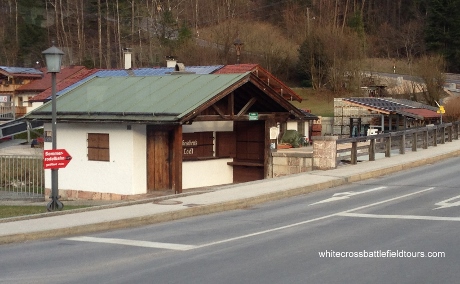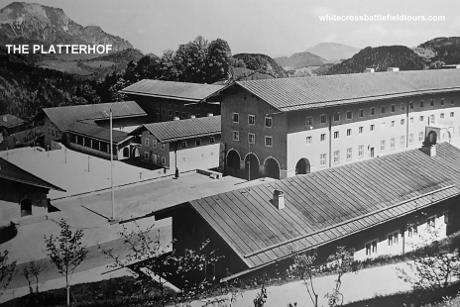 DOCUMENTATION CENTRE – PLATTERHOF – Obersalzberg Documentation Centre & Museum, inc original air-raid tunnel
GUTSHOF – Bormann's farm location
FLAK POSITIONS – Former locations and foundations of anti-aircraft guns. (Flak stellung)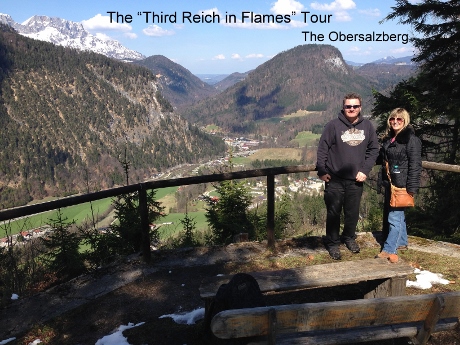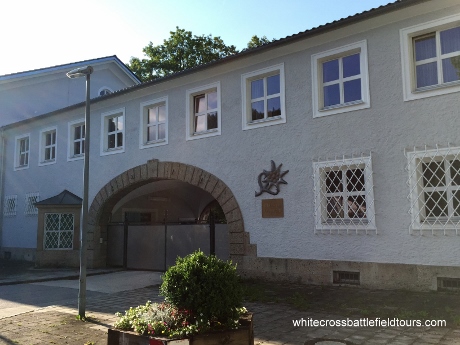 STUNNING MOUNTAIN ALPINE SCENERY
BERCHTESGADEN  -The beautiful Bavarian town of Berchtesgaden and the Railway station, where Hitler and his important guests would arrive by train
SECRET UNDERGROUND TUNNELS -The air-raid shelter tunnel entrance, in Berchtesgaden, for the civilians & railway workers
GUARDHOUSES – Former outer perimeter guardhouses and foundations of the inner perimeter guardhouses -Obersalzberg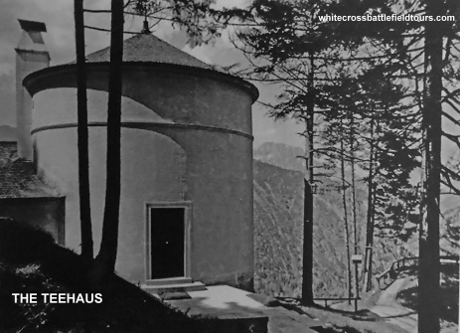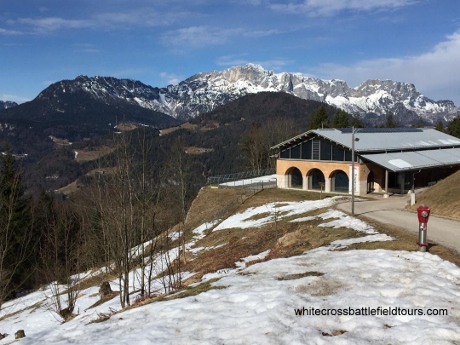 PLATTERHOF -Location of the former Platterhof  Hotel -Obersalzberg and the Greenhouse
Gebirgsjager Kaserne  – Former SS Mountain Troops barracks, with original 3rd Reich Eagle
BAD REICHENALL -S.S Military Barracks with 3rd Reich period Eagle
OBERSEE, HINTERSEE & KONIGSEE LAKES – The stunning Obersee, Hintersee & Konigsee Lakes, which Hitler and Eva Braun visited for relaxation. Eva Braun made several of her well known home movies here, on the shores of the beautiful Konigsee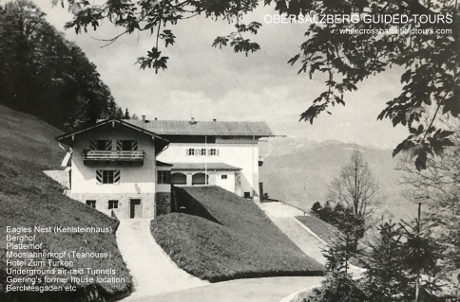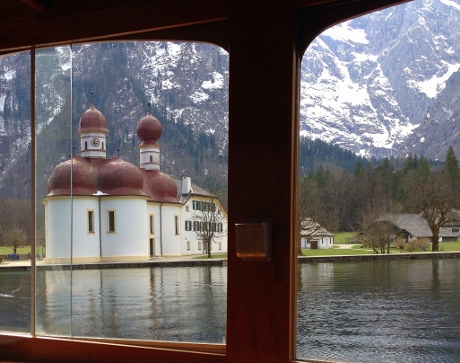 COAL BUNKER – The huge coal bunker, needed to heat the vast Obersalzberg area and underground air-raid bunkers
MEIN KAMPF – Foundations of a little wooden chalet, in the forest (Kampfhaus), where Hitler completed his book "Mein Kampf" (My Struggle)
R.A.F AIR-RAID – Huge Crators on the Obersalzberg, from the April 25th 1945, R.A.F heavy air-raid (tall -boy bomb crators)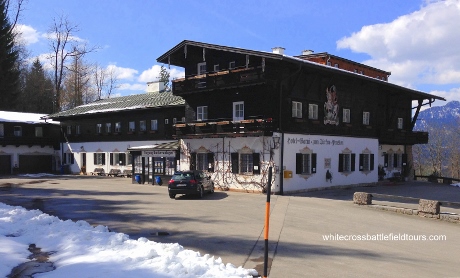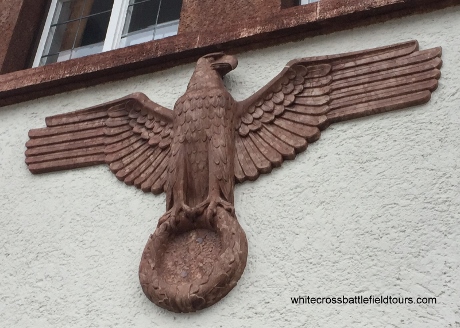 MARTIN BORMANN – Former locations of Reichsleiter Bormann & Luftwaffe Chief – Hermann Goering's villas – Obersalzberg
GOERING – Goering's adjutant's intact villa (undamaged from the bombing raid)
BORMANN – A tunnel exit, that once led from Bormann's Villa (optional as difficult terrain)
Obersalzberg and Berchtesgaden, are in an area of outstanding natural beauty, surrounded by beautiful aqua green lakes, stunning waterfalls and breathtaking alpine mountain scenery. Berchtesgaden is also very close to the beautiful Austrian city of Salzburg (30 min drive)
SIGHTSEEING – Therefore, a wonderful location, to spend a vacation, sightseeing, hiking, cycling, mountain climbing, or just relaxing outside one of many superb restaurants
TOUR NUMBER 2
MUNICH & DACHAU
MUNCHEN – You will sample the delights of the beautiful old German city of Munich. The capital of Bavaria.
As well as the former Third Reich locations listed below, you will see Munich's stunning architecture and experience it's vibrant & very colourful atmosphere.
ARCHITECTURE – We will pass by the elegant Frauenkirche, the old and new Rathaus buildings, meander through Munich's old cobbled streets, sample a traditional Bavarian Beer in a local Brewery and have lunch in the famous Markplatz.
CITY GATES – Plus you will see the ancient city gates of the Isator & the Siegestor and we will cross the Isar River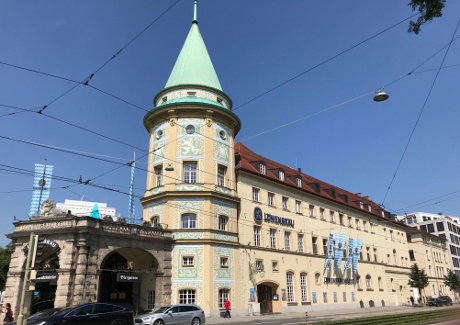 Third Reich Locations in Munich & Dachau
HOFBRAUHAUS – The Hofbrauhaus in Munich (Hitler's early speeches were held here) Great place for a photo, lunch, or a cold German beer from the brewery itself !
BURGERBRAUKELLAR – The former Burgerbraukellar location in Munich (Hitler's favoured Beer Kellar for speeches). I will show you the exact spot where Georg Elser's bomb went off
LOWENBRAUKELLAR – Hitler held several early party speeches in this beautiful building
BEER HALL PUTSCH
BEER HALL PUTSCH  – We can follow the exact route taken by the "Putschist's" over the beuatiful Isar River and into Munich's old town. (optional)
Below: One of Hitler's apartments was at the front of  this building
KONIGSPLATZ – The beautiful Konigsplatz in Munich, with it's stunning architecture (The Propylaen, Fuhrerbau, Glyptothek etc)
EHRENTEMPEL – The location of the former Ehrentempel's, where the "Putschist's" bodies were placed
KRIEGSMINISTERIUM – The former Kriegsministerium building
EVA BRAUN – I will show you the location where Hitler met Eva Braun, early Nazi party offices, locations where Hitler painted his pictures and where he would have lunch, including in the Hofgarten
RESIDENTSPLATZ – Beautiful architecture and stunning courtyards 
PAINTING – I will show you locations ,where failed artist Hitler, enjoyed his passion for painting
FELDHERNHALLE – location of the Feldherrenhalle in Munich (On Odeonsplatz) site of the failed Beer Hall Putsch
2 of Hitler's former residences in Munich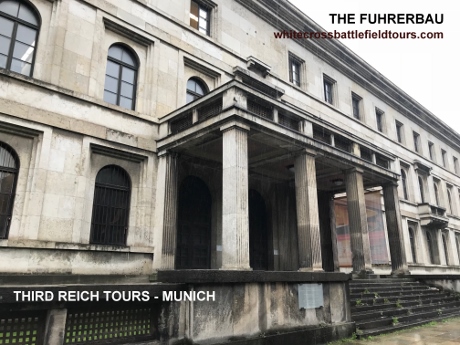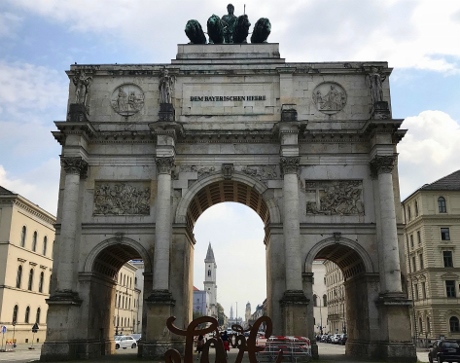 THE WHITE ROSE
SOPHIE & HANS SCHOLL –
WHITE ROSE -The tragic but heroic  story of Hans & Sophie Scholl & the "White Rose Movement"
MUNICH UNIVERSITY – The Munich University, where Sophie & Hans dropped thousands of anti-Nazi leaflets. However – they were caught,  interrogated by the Gestapo and ultimately executed
TRIAL -The Courthouse building where they were put on trial, the apartment where they lived, their graves and some poignant memorials to this extremely brave group of young students
WITTELSBACH  -Former Gestapo Headquarters in Munich location (The Wittelsbach Palace)
STADELHEIM  – Stadelheim Prison, where the members of the White Rose were incarcerated and executed
The Third Reich in Flames Tour
DACHAU CONCENTRATION CAMP
Dachau Concentration Camp near Munich (The 1st Concentration Camp to be operational – 1933)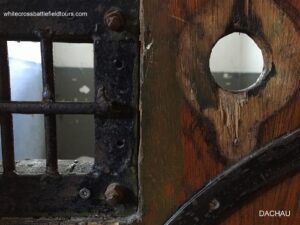 During this half day tour, i will show you the excellent Dachau museum, the former execution yard, the Jourhaus (Main gate to prisoner compound), many rebuilt watchtowers, the former Appelplatz (roll call square), barrack foundations, crematorium, the barbaric and intact cell block, extremely cruel methods of torture, an execution wall in the woods, former industrial buildings
As well as – SS officer accommodation, mortuary, shooting range, a re-constructed prisoner barrack, with latrines and wooden tiered beds, the route of advance of American troops who liberated the camp, the location where the "Death Train" was discovered, plus many impressive memorials, to the 41,500 inmates, that tragically perished here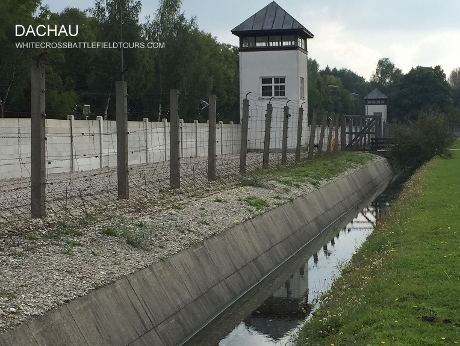 ARBEIT MACHT FREI – Here you will see the infamous – "ARBEIT MACHT FREI" sign on the iron entrance gate to Dachau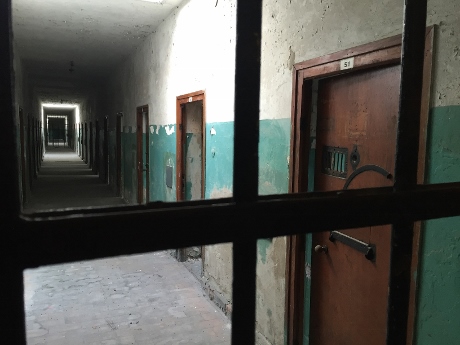 LUNCH – We will have lunch in the charming medieval town of Dachau itself. A beautiful little town with it's cobbled streets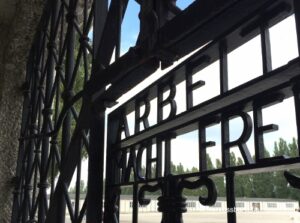 KAUFERING CAMPS We can visit the Dachau sub-camps of KAUFERING (liberated by 101st Airborne) & and drive to the historic Landsberg Prison, where so many Nazis were executed and where Hitler was imprisoned.
LANDSBERG is a delightful medieval Bavarian town. Hitler wrote Mein Kampf here (and on the Obersalzberg) in his prison cell. Outside the prison is a cemetery where many S.S officers lie. (They were executed here after the war, for war crimes)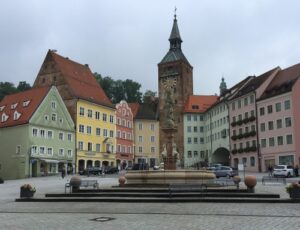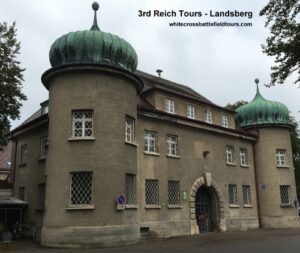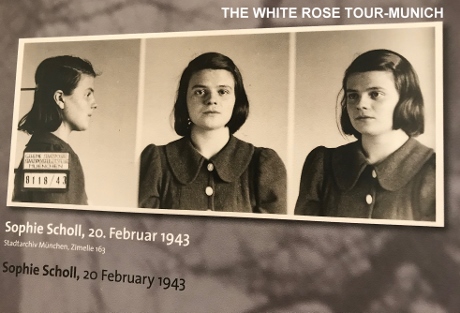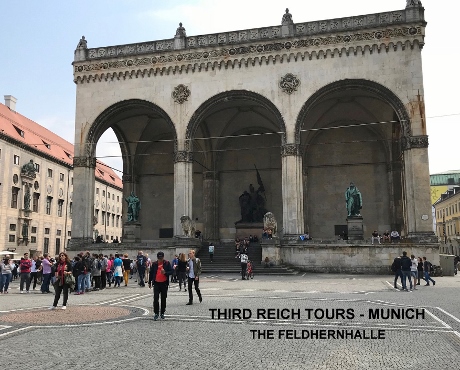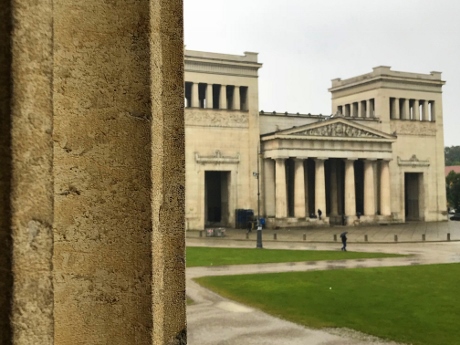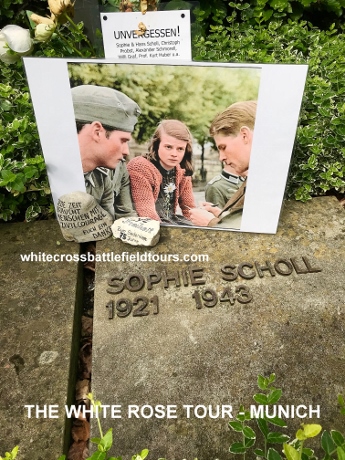 The Third Reich in Flames Tour
In addition to the above 3rd Reich themed tours, i also offer tours of COLDITZ CASTLE, WEWELSBURG CASTLE, THE LUDENDORFF BRIDGE AT REMAGEN, former MESSERSCHMITT ME262 secret factory locations, CONCENTRATION CAMPS, locations where famous Hollywood movie scenes were filmed (THE GREAT ESCAPE & WHERE EAGLES DARE)
Lake Tegernsee (Himmler's holiday home & the location where Hitler arrested Ernst Rohm, during the (Night of the long knives),  Durnbach CWGC allied Military Cemetery, several former LUFTWAFFE airfields & crash sites, former 3rd reich era armaments factories, the Westwall defences (see my Westwall Tour page) and much much more…
Please contact me for more information: whitecrossbattlefieldtours@gmail.com