Tragedy of the Holocaust WW2 Guided Tour
My "Tragedy of the Holocaust WW2 Guided Tour", can consist of any of the following locations (Main locations listed only)
I will show you lots of  remote locations- such as railway deportation stations, sub-camps, derelict factories –
death march locations & memorials, SS training camps, former p.o.w camp locations, slave labour quarries, former S.S accommodation and Kommandant's villas, execution sites, museums, memorial stones, factory tunnels, prisons, torture methods and implements.
Cell blocks, gallows, railway carriages that carried the Jews, hospitals and Euthanasia centres etc ….
Holocaust Guided Tours
GATEHOUSES, WATCHTOWERS, MEMORIALS & MUSEUMS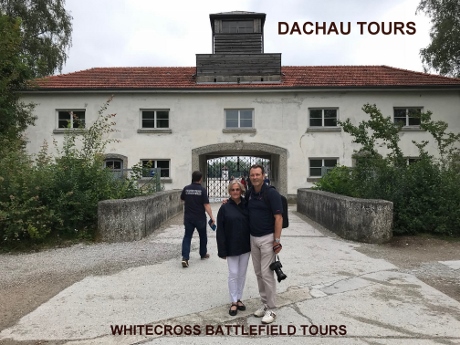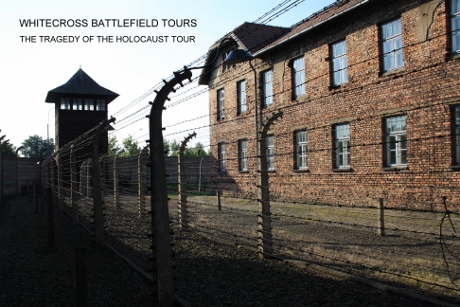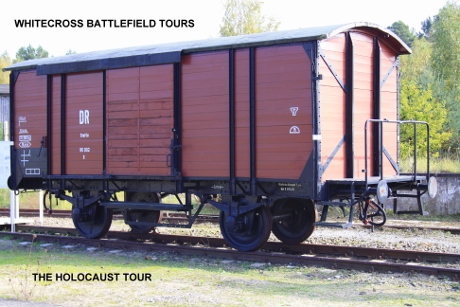 THE CONCENTRATION CAMPS & DEATH CAMPS
CONCENTRATION CAMPS  "K.Z's"- (KONZENTRATION LAGERS), MEMORIALS, MUSEUMS  & DEATH CAMPS:
AMERSFOORT (Holland)
AMSTERDAM (Anne Frank -Holland)
AUSCHWITZ
1 – AUSCHWITZ 1 & 11 (Poland) Gas chamber, Kommandant Rudolf Hoess's family home, (reconstructed gallows -on the exact spot where Hoess was hung after his trial).
Standing cells, artefacts, memorials, barbed wire fences, ponds where human ash was dumped, Josef Mengele's experiment barrack location, latrine blocks, punishment block, execution wall, kitchens,
2 – AUSCHWITZ 11 BIRKENAU (Poland) Gas Chamber ruins, railway spur unloading ramp, infamous main gate, watchtowers etc, foundations of the "whitehouse" & the "redhouse" kitchens, brick and wooden barracks, Mengele's experiments barrack, memorials to the victims etc
3 -AUSCHWITZ 111 MONOWITZ (Poland) location of the former p.o.w camp, slave labourers barracks and I.G Farben & Buna factories, plus original barbed wire and surrounding walls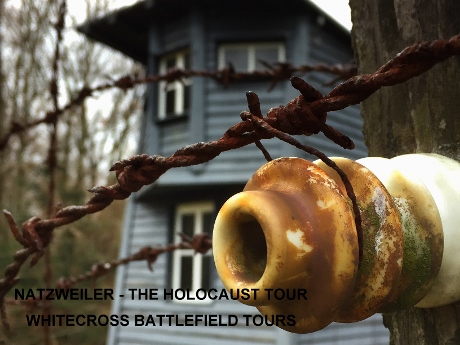 BELZEC (Poland)
BERGEN BELSEN (Germany) Museum, former camp location, original box-car, used for transporting Jews, artefacts found in the grounds, mass graves, Soviet Cemetery and Memorial stone to Anne & Margot Frank, who tragically died here in April 1945
BISINGEN (Germany)
BREENDONK (Fort) (Belgium)
BUCHENWALD (Germany) The Jourhaus, Kommandant & S.S officer Villa foundations, barrack foundations, dog kennels, former site of War production factory, bomb crators, watchtowers, crematorium, cell block, torture cells, railway line unloading ramp, museum, memorials, execution locations…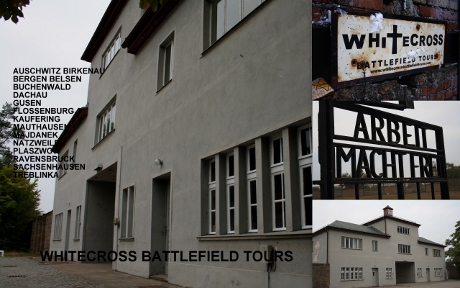 CHELMNO (Poland)
DACHAU (Southern Germany) Museum, Jourhaus, Railway siding where the "Death Train" was discovered by liberating U.S soldiers, the cell block, execution wall, shooting range, barrack locations, watchtowers, crematorium etc, S.S accommodation, former war production factory locations. Dachau was the 1st large Concentration camp to be built, very close to the little town of Dachau
EBENSEE (Austria)
ECKERWALD (Germany)
FLOSSENBURG (Germany)
GARDELEGEN Memorial & the story of the terrible S.S massacre here of Jews
GROSS ROSEN (Poland)
GUSEN 1 & GUSEN 11 MEMORIALS (Austria) & The location of the Bergkristall Tunnels, used for German War production. The former Camp entrance here (Jourhaus), is now a family home
HINZERT Camp Memorial (Germany)
KRAKOW GHETTO LOCATIONS/GHETTO WALL SECTION/DEPORTATION LOCATION & OSKAR SCHINDLER FACTORY (MUSEUM) "SCHINDLER'S LIST" FILM LOCATIONS… (Poland)
KAUFERING 1, KAUFERING 11, KAUFERING 111, KAUFERING 1V (Germany)
LIDICE MUSEUM & MEMORIAL  & LEZAKY MEMORIAL (Czech Republic)
LODZ GHETTO & RADEGAST TRAIN STATION MEMORIAL (Poland)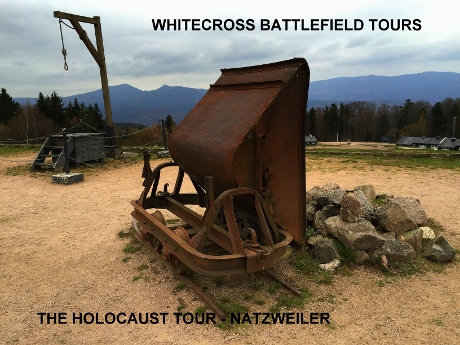 LUBLIN (Poland) The former Lublin Jewish Ghetto
LITOMERICE (Poland)
MAJDANEK (Poland) One huge memorial here, is made from human ashes, of thousands of victims
MAUTHAUSEN & MAUTHAUSEN QUARRY (Austria) Mauthausen is huge and survives virtually intact, as most of the camp was made with granite, from the nearby quarry
MITTELBAU DORA – former V1 & V2 rocket manufacturing underground factories (Germany)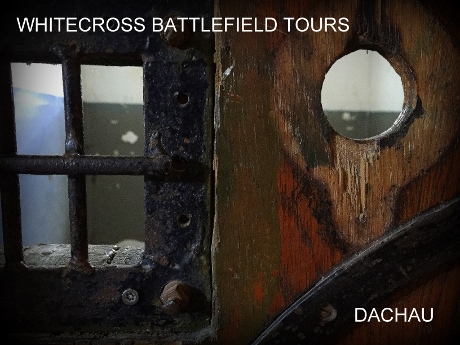 Tragedy of the Holcaust WW2 Guided Tour
NATZWEILER STRUTHOF (France)
NORDHAUSEN -Germany (V2 Rocket manufacture/assembly)
NEUNEGAMME (Germany)
OHRDORF (Germany)
PLASZOW CAMP (POLAND) Inc evil Kommandant Amon Goeth's former Villa, location of mass graves, former camp workshop ruins & S.S officer's house (SS STRASSE) KZ Plaszow was featured in the film -Schindler's List
RAVENSBRUCK (Germany) Himmler's Concentration Camp, exclusively for Women. Ravensbruck was an extremely brutal camp, situated North of Berlin
SACHSENHAUSEN (Germany) The Jourhaus, execution pit, War production factories, dissection room, cell block, gallows, Kommandant's Villa, S.S accommodation & garages, S.S Casino, crematorium ruins. Sachsenhausen was situated North of Berlin
Watchtowers, Memorials, location of Barracks used for secret counterfeiting operation (Operation Bernhard) Railway station, Route of forced "Death March", Russian prisoner barracks, barbed wire fences etc. Sachsenhausen was an extremely brutal Concentration camp and one of the first to be built, using slave labour
SOBIBOR Death Camp (Poland) The memorials, the unloading ramp, the former barracks locations, gas chamber etc and Museum & The story of the daring, dangerous, mass breakout by 300 inmates. (See the film " Escape from Sobibor"). Sobibor was situated near the Ukranian border and was hidden deep in the forest
In 2010 – i interviewed one of the escapees, of the Sobibor revolt -Thomas "Toivi" Blatt and I will tell you the true story, of his role in the escape and his desperate days on the run, hunted down, by thousands of heavily armed S.S soldiers, through the pine forests of Eastern Poland
THERESIENSTADT -TEREZIN (Czech Republic) Railway station, Barracks, Memorials, Cells, ancient Fort, gallows & Cemetery for murdered victims. Terezin/Theresienstadt, was situated near Prague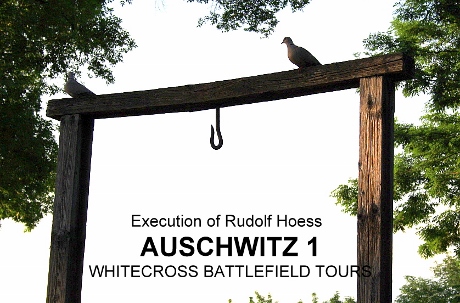 TREBLINKA (Poland). Treblinka was a death camp. I will show you the foundations of barracks at Treblinka, as well as, memorials and location of the gas chambers. Also, the railway line, that led into the camp, near Malkinia
VUGHT (Holland)
WARSAW (Poland)
WESTERBORK (Holland)