HOLOCAUST TOURS
Tragedy of the Holocaust WW2 Guided Tour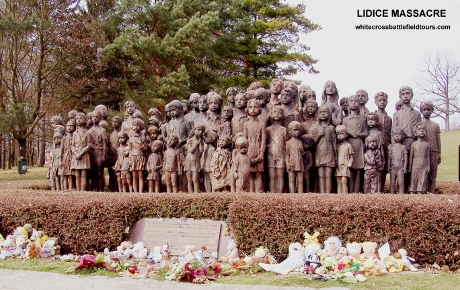 HISTORICAL & EDUCATIONAL GUIDED HOLOCAUST TOURS
Remembering the millions of victims who perished during the Holocaust
I have been a dedicated Holocaust researcher, for over 20 years and have frequently visited, many of the Concentration Camps,  all over Europe and interviewed survivors and witnesses of the Holocaust and recorded their testimonies
My most popular Holocaust/ Concentration Camp tour destinations therefore are: Auschwitz & Plaszow in Poland, Bergen Belsen, Buchenwald, Dachau, Mittelbau Dora, Mauthausen, Gusen, Majdanek, Sobibor, Sachsenhausen, Flossenburg & Ravensbruck etc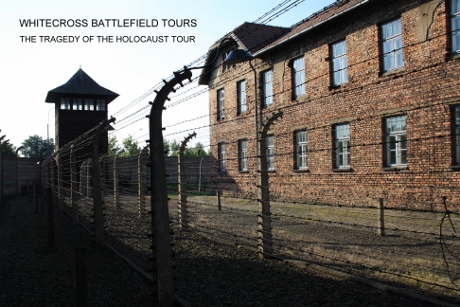 Holocaust Tours – I will show you lots of  remote locations- such as railway deportation stations, sub-camps, derelict factories.
 Death march locations & memorials, SS training camps, former p.o.w camp locations, slave labour quarries.
Concentration Camp Tours –  Former S.S accommodation and Kommandant's villas, memorials, execution sites, museums, factory tunnels, prisons, torture methods and implements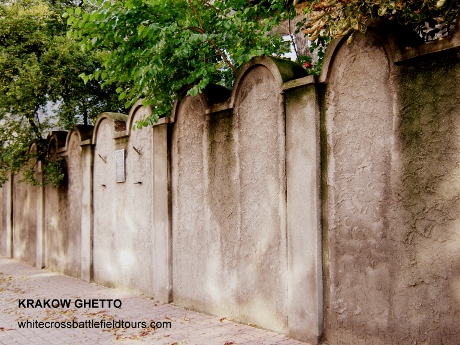 HOLOCAUST TOUR No 1
DACHAU CONCENTRATION CAMP / DACHAU SUB CAMPS / LANDSBERG PRISON & FLOSSENBURG CONCENTRATION CAMP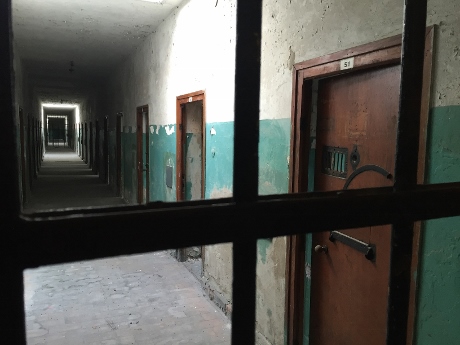 This is a 2 day guided Holocaust Tour, visiting the following locations in Southern Germany, such as:
DACHAU –  the notorious Dachau Concentration Camp & Museum , near Munich, Bavaria (Bayern) & Dachau Town (half a day) inc locations inside & outside the main complex, such as the so-called location of the "Death Train", the former slave labour workshops, S.S officer accommodation, former entrance locations, S.S shooting range.
Plus – The Jourhaus (main gate), exact point where American troops entered the Dachau Camp, many imposing watchtowers, former electrified fences, roll call square, S.S admin building, locastion of barracks, 2 reconstructed barracks, crematorium, execution wall, original cellblock inc punishment cells, memorials, locations of mass graves, impressive but very sombre museum with hundreds of artefacts and photographs etc
DACHAU SUB CAMPS – Kaufering 1, 2 & 3 Sub Camps of Dachau & Memorials – Bavaria
Landsberg Prison, Landsberg (where Hitler was imprisoned and many Nazis executed)
Flossenburg Concentration Camp & Museum, inc crematorium, watchtowers, barbed wire fences, places of executions, former barrack locations, roll-call square, S.S admin building, main gatehouse, museum with artefacts and photos, plus locations outside the camp, inc quarry and places of slave labour work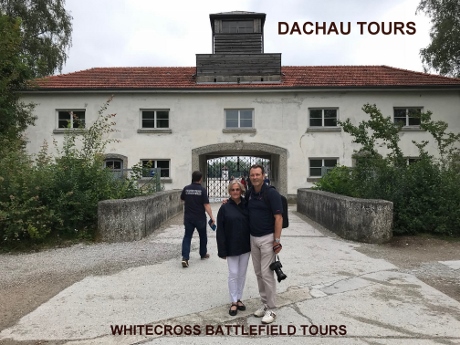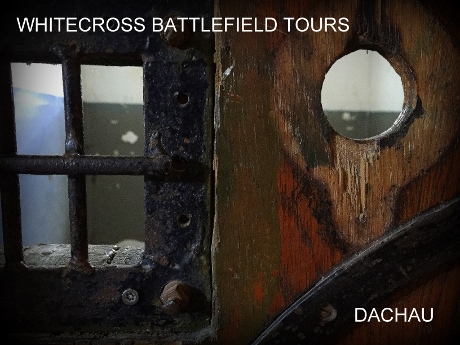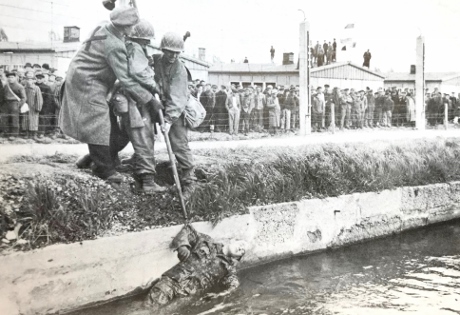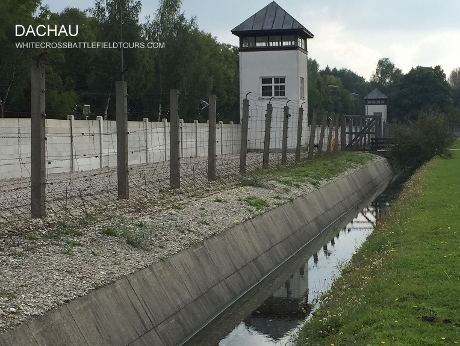 Below photo : One of my 2 meetings and interviews, with SOBIBOR death camp, escape survivor – Thomas "Toivi" Blatt, in 2010: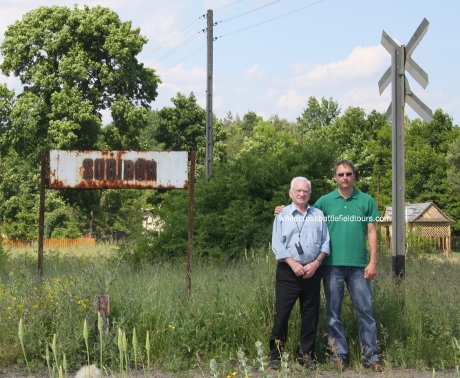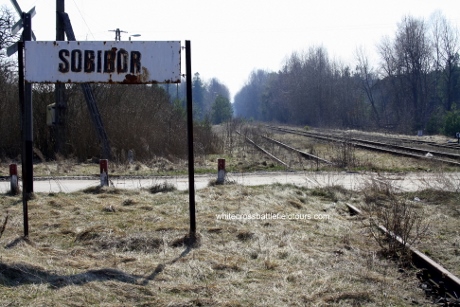 HOLOCAUST TOUR 2
BERGEN BELSEN / BUCHENWALD / MITTELBAU DORA /  SACHSENHAUSEN & RAVENSBRUCK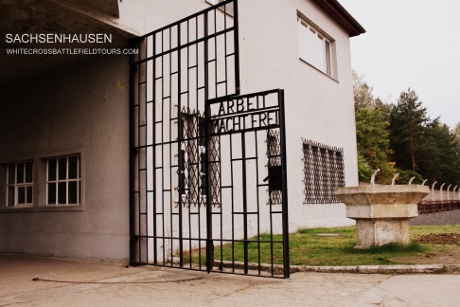 This is a 3 day Holocaust Tour, visiting the following locations in Central & North Eastern Germany, such as:
Bergen Belsen Camp Memorial & Museum & former Railway station unloading ramp, with original box car
Buchenwald Concentration Camp & Museum, inc locations outside the camp, such as the former Kommandant's Villa, S.S officer's accommodation, former railway unloading ramp, execution sites & slave labour factory
Mittelbau Dora Camp & underground tunnel system (V1 & V2 rocket manufacturing facility)
Ravensbruck Concentration Camp (Women's Camp) – North of Berlin
Sachsenhausen Concentration Camp – North of Berlin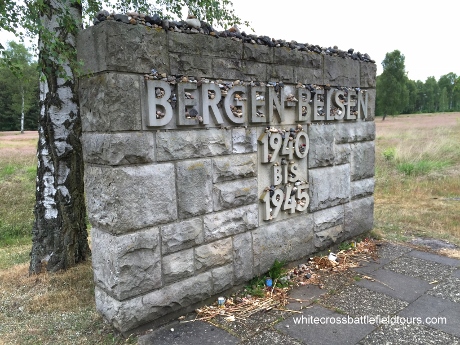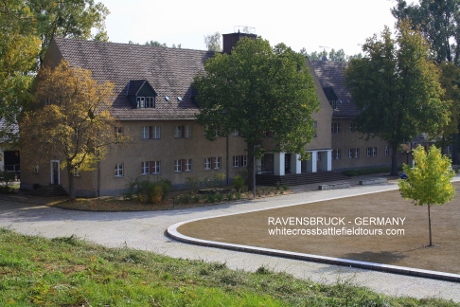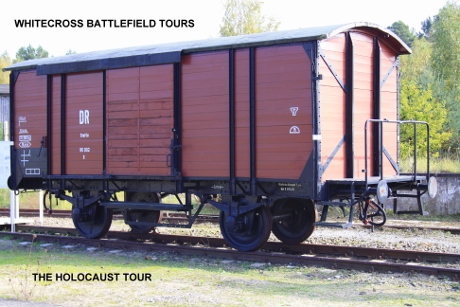 HOLOCAUST TOUR  3
AUSCHWITZ / AUSCHWITZ 11 BIRKENAU / PLASZOW / KRAKOW GHETTO / SCHINDLER MUSEUM / SCHINDLER'S LIST FILM LOCATIONS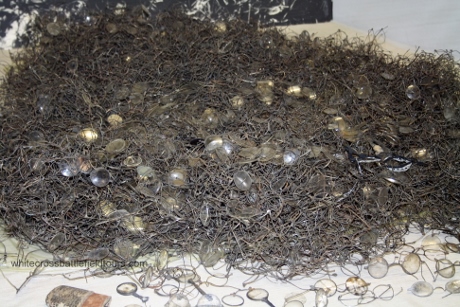 This is a 3 or 4 day Holocaust Tour, visiting locations, in Poland, such as:
 AUSCHWITZ  Extermination Camps 1 & 11 BIRKENAU, (Poland) including the remains of 5 massive gas chambers, Kommandant Rudolf Hoess's family home, (reconstructed gallows -on the exact spot where Hoess was hung after his trial).
Plus – Standing cells, hundreds of victims belongings, artefacts, sombre memorials, rows and rows of endless barbed wire fences, cremation pits, huge ponds where human ash was dumped, Josef Mengele's experiment barrack location, block 25 , latrine blocks, gallows, punishment block, execution wall memorial, kitchens, sauna, sewage treatment works.
S.S guard accommodation, unloading ramp, gypsy camp, women's camp, mens camp, former location of the "Canada" barracks, ruins outside the complex, latrine barracks, masses of watchtowers, S.S administration buildings, ditches, railway lines outside the camps etc.
If you take a coach tour from Krakow, you will not see enough here !  Auschwitz is huge and 2 days are required to explore it properly and away from the crowds. The coach trip is 1.5 hours each way on terrible roads. However, in my car, it takes only one hour each way and we get there first thing in the morning, before the masses of coaches arrive.
My Auschwitz Tour, shows you locations inside and outside the camp, that 99% of people don't know about, or do they visit. But they are extremely important, if you wish to understand what occurred here and the sheer vastness of the 3 camp complexes….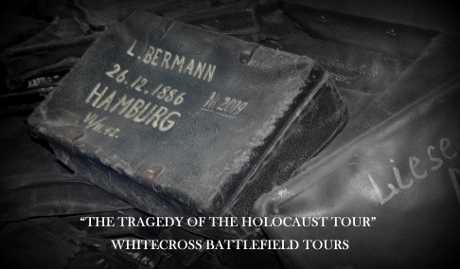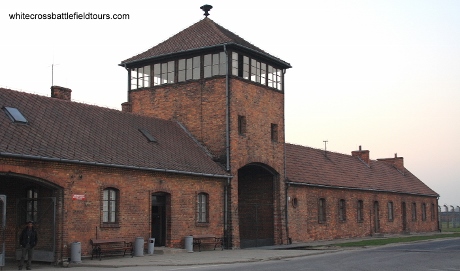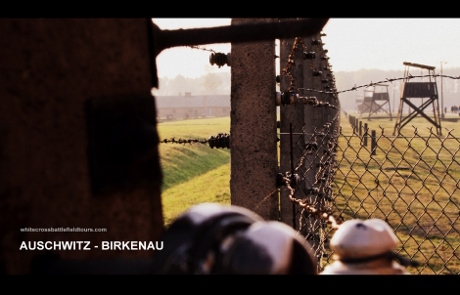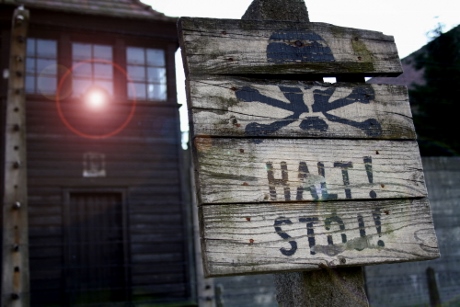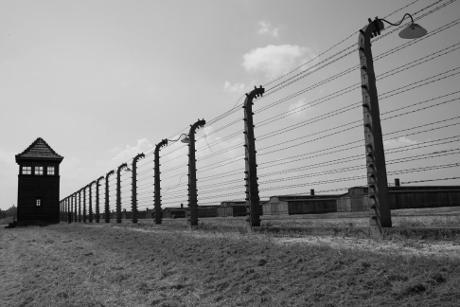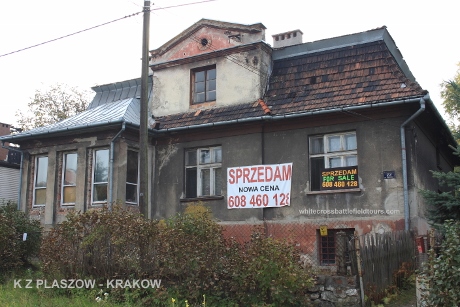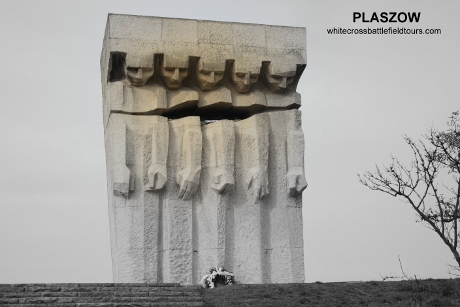 AUSCHWITZ 111 MONOWITZ (Poland) location of the former allied p.o.w camp, slave labourers barracks and I.G Farben & Buna factories, plus original barbed wire and surrounding walls
Oskar Schindler Museum & former Enamelwerke Factory in Krakow
Amon Goeth's Villa (Kommandant of Plaszow) & huge S.S villa (S.S Strasse)
PLASZOW Concentration Camp, memorials and ruins of brick buildings
Krakow Ghetto
Gestapo Headquarters
WW2 Cemetery
Round -up of the Krakow Jews & Deportation square in the Krakow ghetto
Plaszow Railway station
2 impressive and original sections of the Krakow ghetto wall
Locations where some of the filming of the epic movie – Schindler's List took place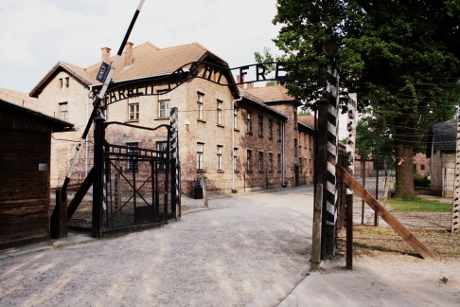 Photo below:  My photo taken of Sobibor Death Camp survivor – Thomas "Toivi" Blatt in 2010. Here, Thomas gazes with silent reflection, over the huge Majdanek death camp, in Lublin, Poland. He sits on the edge of the "pile of human ash" monument.
I met this dedicated Holocaust /Sobibor survivor and wonderful man, twice in 2010, in Lublin and I had the fortune to record his experiences. I drove him out to Sobibor and Majdanek and we spoke for many hours together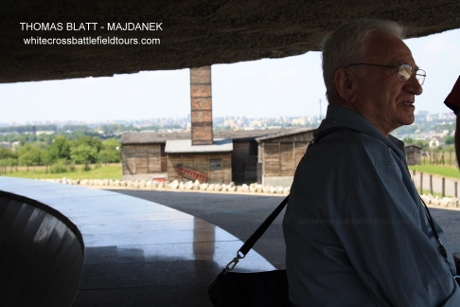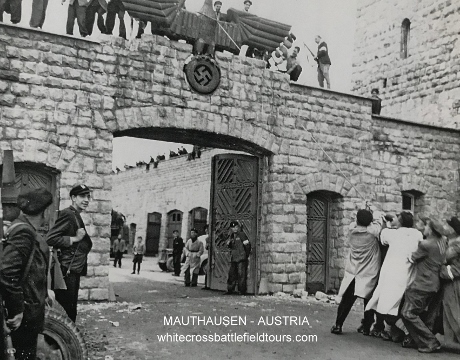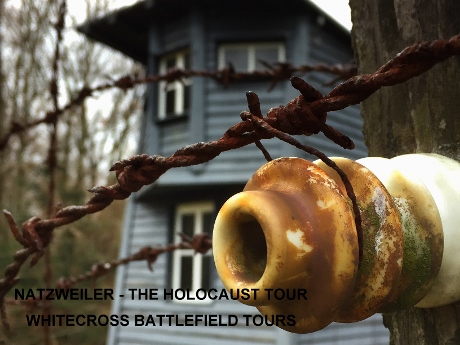 OTHER LOCATIONS THAT CAN BE CUSTOMISED INTO A , 3 OR 4 DAY, HOLOCAUST TOUR: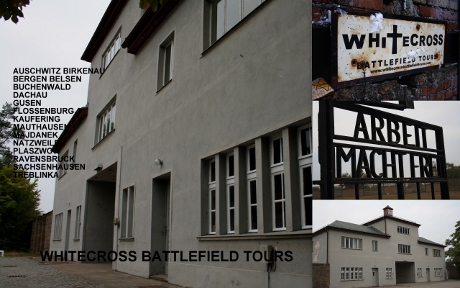 BISINGEN (Germany)
FORT BREENDONK (Belgium)
EBENSEE (Austria)
K.Z ECKERWALD (Baden Wurttemberg, Germany)
GUSEN 1 & GUSEN 11 MEMORIALS (Austria) & The location of the Bergkristall Tunnels, used for German War production. The former Camp entrance here (Jourhaus), is now a family home
HINZERT Camp Memorial (Germany))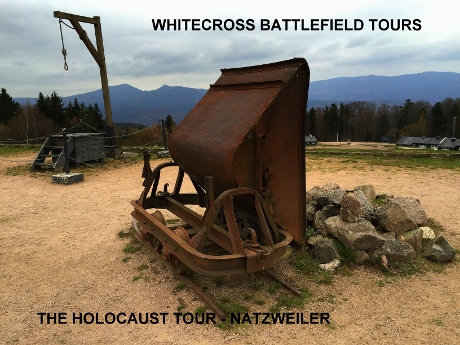 LUBLIN (Poland) The former Lublin Jewish Ghetto & Operation Reinhard Headquarters building
MAJDANEK (Poland) A huge death camp complex. Now a museum. The Mausoleum memorial here, is made from human ashes and bones, of tens of thousands of victims. Plus gas chambers, watchtowers, electrified perimeter fencing, barracks, memorials, S.S accommodation, main gatehouse, execution grounds.
MAUTHAUSEN & MAUTHAUSEN QUARRY (near Linz, Austria) Mauthausen is huge and survives virtually intact, as most of the camp was made with granite, from the nearby Wiener Graben quarry, with it's notorious "stairs of Death".
As well as a visit to the nearby remains, of the dreadful GUSEN camps and memorial.
MITTELBAU DORA – former V1 & V2 rocket manufacturing underground factories (Germany)
NATZWEILER STRUTHOF (France)
NORDHAUSEN -Germany (V2 Rocket manufacture/assembly)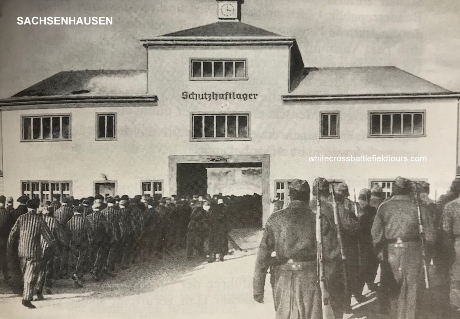 SOBIBOR Death Camp (Poland) The memorials, the unloading ramp, the former barracks locations.
 As well as – Gas chamber  and Museum & The story of the daring, dangerous, mass breakout by 300 inmates. (See the film " Escape from Sobibor").
Sobibor was situated near Bug River, close to the Ukranian border and was hidden deep in the forests
In 2010 – i interviewed one of the escapees, of the Sobibor revolt -Thomas "Toivi" Blatt and I will tell you the true story, of his role in the escape and his desperate days on the run, hunted down, by thousands of heavily armed S.S soldiers, through the pine forests of Eastern Poland
Therefore, I will relay his incredible true story to you, as we travel between Holocaust LOCATIONS.
THERESIENSTADT -TEREZIN (Czech Republic) Railway station, Barracks, Memorials, Cells, ancient Fort, gallows & Cemetery for murdered victims. Terezin/Theresienstadt, was situated near Prague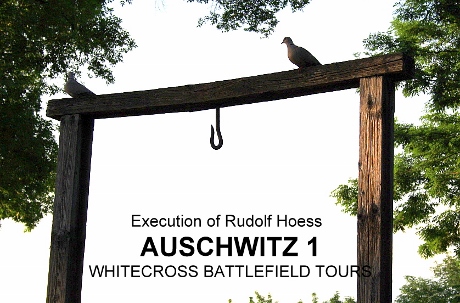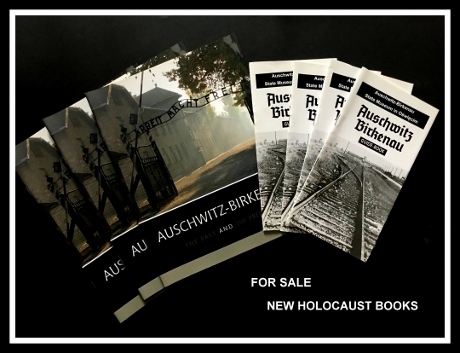 TREBLINKA (Poland). Treblinka was a death camp. 900,00 were murdered here. Therefore, I will show you the foundations of buildings at Treblinka, as well as, impressive memorials, location of the slave labour quarry and location of the gas chambers.
Also, the Treblinka Railway station location and the railway line, that led into the Treblinka camp, from  Malkinia Station